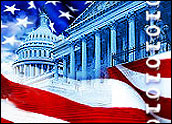 The Open Park Project, a Washington, D.C.-based nonprofit, launched the first public outdoor wireless Internet hotspot in the nation's capital today. The free service provides coverage in front of the Supreme Court, the Library of Congress and the Capitol Visitors Center site. The Capitol Hill hotspot is the initial step in Open Park's plan to provide free public wireless Internet service across the National Mall.
Open Park is using the popular WiFi technology employed in home networks and coffee shops. The group's free hotspot "will give the public outside the Capitol the same quick Internet access for research, e-mail and news that their representatives enjoy inside their offices," said Open Park's cofounder, Greg Staple, a Washington communications lawyer. "It's a hotspot for democracy."
The group also announced today that it received a significant donation of WiFi equipment and services from Tropos Networks of San Mateo, California, a supplier of systems used to build metro-scale WiFi networks. The donation will enable Open Park to establish a mesh of free hotspots on the Mall, beginning this summer. By 2005, the group's goal is to create a public WiFi zone from the Washington Monument to Capitol Hill that also will serve as a national testbed for new wireless applications.
Firsthand Look
"Washington policymakers deserve a firsthand look at how quickly innovation can develop in unlicensed spectrum bands, such as those used by WiFi," said Kevin Werbach, a technology analyst and cofounder of the Open Park Project. "From WiFi phones to radio location tags to portable guides for park rangers, the possibilities are extraordinary."
"We welcome the support of other high-tech companies and individuals in implementing this vision," said Leo Cloutier, a telecommunications consultant who serves as the project's chief technical adviser and network architect. "We believe that Washington deserves a state-of-the-art WiFi net on the Mall. Open Park is focused on marshaling the resources necessary to provide this 21st Century community service."
Open Park is a District of Columbia nonprofit organization founded in 2003 by Staple, Don Weightman, Werbach and Cloutier.
Founding Members
Staple is a partner with the law firm of Vinson & Elkins LLP and has advised communications companies on legal and regulatory matters for more than 20 years. He also founded TeleGeography, a telecom business publisher now owned by PriMetrica.
Weightman is a Washington communications lawyer with more than 25 years of experience in representing technology companies.
Werbach is the founder of the Supernova Group and was formerly counsel for new technology policy at the Federal Communications Commission and the editor of Release 1.0: Esther Dyson's Monthly Report.
Cloutier has more than 15 years of experience in developing carrier-class voice, video and data services.
Launched as Campaign
The group has launched a campaign to raise the additional funding necessary to implement its vision. The project's startup activities have been assisted by Public Knowledge, a national public-interest organization committed to expanding fair use of digital media.
Public Knowledge also is accepting tax-deductible grants and gifts on behalf of Open Park, pending approval of Open Park's own 501C3 exemption application by the IRS.
Open Park's activities are also supported by the law firm of Vinson & Elkins LLP, which provides pro bono legal counsel to the project; DC Access, a Capitol Hill wireless Internet service provider that supplies the project's broadband Internet connection; and DeepCoolClear and Airimba Wireless, formerly Texas WiFi, which provide back-end network management and authentication services for WiFi operators.
About Tropos
Tropos Networks, meanwhile, is a supplier of systems used to build metro-scale outdoor WiFi networks. Tropos' WiFi cells, along with the company's element manager to control large WiFi networks, enable public agencies and service providers to deliver city-wide mobile broadband to users in any locale.
The Tropos cellular mesh architecture and use of optimized open-standard radios are designed to reduce the need for wired backhaul while eliminating expensive proprietary clients and complex software.
Tropos, headquartered in San Mateo, California, did not detail the extent of its contribution to the Open Park Project.