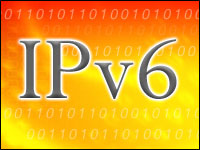 At this writing, the start of World IPv6 Day is a few short hours off, but if it's June 8, and you're reading this after having accessed it via a Google or Yahoo search, then World IPv6 day has been a success.
Not that the chances are big that you'll be stymied in your attempts to navigate the Web. With the giants of the Internet prepping for this day for a year, the concerns over possible failure are slight.
Briefly, World IPv6 day is the day when Google, Yahoo, Facebook, Verizon, Microsoft and a few other sites put the next-generation Internet protocol to the test. For 24 hours on June 8, these sites will be accessible via both IPv6 and the current protocol, IPv4.
The test will set the stage for a larger-scale adoption of IPv6 as IPv4 winds down, which is happening faster than many Internet users realize. The Internet Assigned Numbers Authority, which is operated by ICANN, doled out the last of the IPv4 addresses earlier this year to Regional Internet Registries.
ICANN did not respond to TechNewsWorld's request for comments in time for publication.
Temporary Glitch
Among the advantages of IPv6 is its scale: It makes available a pool of Internet addresses that is a billion-trillion times larger than the total pool of IPv4 addresses, which number about 4.3 billion.
It is also a much more secure protocol.
For the most part, the test process should run smoothly, predicted Joe Yeager, product manager at Lancope.
"I am excited to see how it goes," he told TechNewsWorld. "So far it has been a slow process switching to Ipv6, but now we are starting to get some momentum."
The companies participating are very large organizations and have been working on this for years, he said.
The worst hangups will come down the road, he suggested, when more companies — ISPs, content providers and so on — start to make the transition.
Still, it is expected that some Internet users will experience glitches on June 8, perhaps finding themselves temporarily unable to reach one of these sites for a short period of time if the communication between IPv6 destination, server, router and OS becomes derailed at some point and the system doesn't automatically switch to IPv4.
Hack-Free for a Day?
Of somewhat greater concern is the possibility that hackers may take advantage of the test process.
Even that, though, is unlikely. Or rather, the worst-case scenario of a wide-scale attack is unlikely to materialize.
"This should be a seamless day if everyone has their act together," said Imran Abbas, national solutions director for Dimension Data Americas.
"IPv6 offers much more secure functions that are not in IPv4," Abbas told TechNewsWorld.
Also, content providers are very cognizant of the risks and will be paying close attention to potential incursions, he continued. "More than likely, if there is an attack, they will be able to isolate it very quickly."
Under the Radar
While participating companies are hyper-aware of the day and its implications, the vast majority of firms are not, according to a survey by CompTIA.
Indeed, such ignorance will open new opportunitiesof a legitimate kind, predicted Seth Robinson, director of technology analysis at the association.
"It would appear that although there are pockets of general awareness of what IPv6 is, that has not spread to everyone," he told TechNewsWorld.
The organization's survey of 400 IT and business decision makers found that more than half, or 56 percent, of respondents indicated they were following news on IPv6, with 30 percent having conducted deeper research into the implications. However, only 21 percent had actually performed network upgrades and nearly one-third, or 31 percent, had done nothing at all.
The earliest opportunities for IT consulting firms will be to build awareness among a new potential clientele, Robinson said.
"Based on our research, we believe that IPv6 will affect different organizations in different ways. Some companies will have an immediate need to deploy consultants," he said. "Others will be able to wait a bit."