The days of reliance on real estate agents to tell us which homes are available are long gone. The same raw data that the agents used to have an exclusive on is now fed to anyone who wants it.
Now all you have to do is choose your source. Here's a look at the top five real estate apps in the Chrome environment.
About the Platform: The Google Chrome Web Browser features three types of add-on: Web apps, themes and extensions. All can be obtained from the Chrome Web Store.
Most of the apps and extensions aren't really apps in the iOS or Android sense. Rather, they are links to application-oriented websites — but nevertheless, useful stuff.
Select the Chrome Web Store link in the lower right corner of a new tab in the browser. Then search by entering the app name in the search text box.
No. 1: Zillow
Zillow has 3+ stars out of a possible 5 from 101 reviewers in the Chrome Web Store. The app has 56,833 users.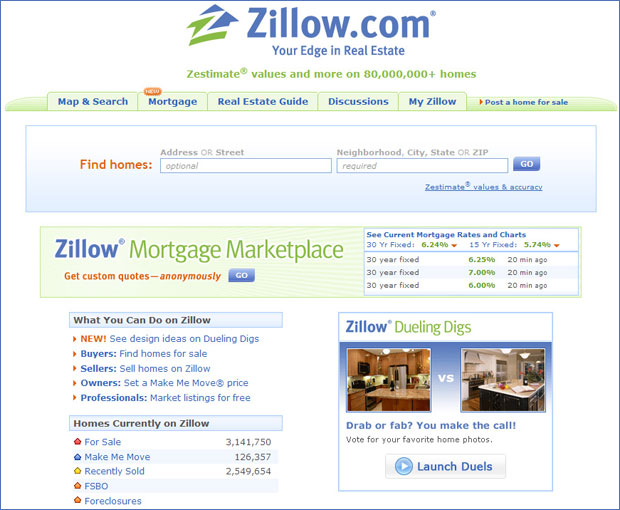 Zillow is an ultra-comprehensive real estate portal. This home and real estate marketplace has a database of more than 110 million homes, including rentals and foreclosures.
This app also lets you compare mortgages — including rates, rate trends and lenders.
A local information tab provides demographics.
No. 2: Sawbuck Real Estate

Sawbuck Real Estate has 3 stars out of a possible 5 from 12 reviewers in the Chrome Web Store. The app has 1,990 users.

Sawbuck provides the MLS in some major markets like the Bay Area, Los Angeles and Washington, D.C. MLS stands for "Multiple Listings Service," and it is the same power-user data that real estate agents subscribe to and use to list their properties.
You can see photographs, prices, property details and open houses for all the properties in the respective areas. Search includes by bedrooms, baths and price.
No. 3: Foreclosure and RTO Homes

Realtystore.com's Foreclosure and RTO (Rent to Own) Homes has 5 stars out of a possible 5 from 12 reviewers in the Chrome Web Store. The app has 1,586 users.

This app lets you search MLS, foreclosures, HUD and rent-to-own. A search by ZIP code provides preforeclosures, foreclosures, auctions, resale and more.
Full sales history detail requires a paid registration — there's a US$1.00 30-day trial — as does property information on foreclosures. However, there's enough regular resale property information data, including Google Street View and some lot plans, to make this a worthwhile browse even if you don't sign up.
No. 4: Autodesk Homestyler
Autodesk Homestyler has 4 stars out of a possible 5 from 3,391 reviewers in the Chrome Web Store. The app has 1,450,872 users.

Take a break from the real estate search and plan your next abode. Autodesk Homestyler is a remodeling project computer-aided design app that lets you lay out floor plans and experiment with product and finish combinations.
There's a design gallery to help you get started if you need it. Plus, you can share your designs across social media like Facebook and find out what your friends think.
No. 5: Napkin Real Estate

Napkin Real Estate has 4 stars out of a possible 5 from four reviewers in the Chrome Web Store. The app has 367 users.
Napkin Real Estate is a home affordability calculator for the kind of calculations you'd ordinarily do on the back of a napkin. Punch in some key numbers like salary, monthly payment and so on, and this spreadsheet-like app will tell you what's what.
In-depth numbers to include are property taxes, monthly expenses like food and car, and other costs. Hit calculate, and the app tells you if you're in the black or not.
Want to Suggest an Apps Collection?
Is there a batch of apps you'd like to suggest for review? Remember, they must all be for the same platform, and they must all be geared toward the same general purpose. Please send the names of five or more apps to me, and I'll consider them for a future All Things Appy column.
And use the Talkback feature below to add your comments!