One of the killer features in the Firefox Web browser is its ability to sync betweendesktops and mobile devices.
Well, you don't have to stop there. Firefox's desktop Web ecosystem includes add-onsthat will let you sync open tabs across other ecosystems, like over to Chrome; keepfavorite Firefox extensions synced with all your computers; sync passwords; and syncreading matter.
About the Platform
Add-ons, also called "Extensions," "Appearances," and "Plugins," can be downloaded from theAdd-ons menu item in Firefox.
Search for the add-on that you need in the Search box within the Add-ons page, orbrowse for the link and choose it. Click on the add-on that you want, allow it to install,and then restart Firefox. Add-ons can become Extensions when they have been installed.
Here's a look at the top five must-have syncing tools within the Firefox environment.
No. 1: LastPass Password Manager

LastPass has 4 stars out of 5 from 854 user reviews in Firefox's Add-ons library.The add-on has a total of 267,155 users.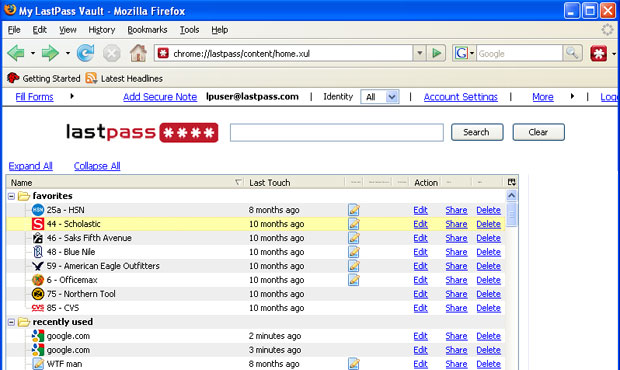 The LastPass Firefox add-on is a multiplatform cross-browser password manager. It syncspassword data. You can also use it to auto-fill forms within Firefox.
LastPass encrypts and saves all of your passwords for use cross-machine. However, itdoesn't save your LastPass master password, so don't forget that one.
No. 2: Xmarks

Xmarks has 4 stars out of 5 from 2,195 user reviews in Firefox's Add-ons library.The add-on has a total of 722,339 users.

Todd Agulnick's Xmarks lets you sync and backup open tabs, bookmarks and browserhistory across different kinds of browsers.
The add-on then functions by uploading your Firefox data to its servers. Then when youinstall the Xmarks add-on on other computers or browsers, like Chrome for example, thetabs are available to you.
No. 3: Siphon

Siphon has 4 stars out of 5 from 159 user reviews in Firefox's Add-ons library. Theadd-on has a total of 8,064 users.

Similar to Xmarks in that it syncs across all of your computers, Ian Halpern's Siphonsynchronizes just your Firefox add-ons. However, this is highly useful if you have anumber of machines on the go at anyone time — like at your workplace and at home.
Just like it's useful to get your files wherever you are, it's useful to have all aspects ofyour browser in sync. Siphon maintains a master list of your add-ons on its server, ratherthan simply syncing multiple browsers like Firefox can do natively.
No. 4: Pocket (Formerly Read It Later)
Pocket has 4 stars out of 5 from 763 user reviews in Firefox's Add-ons library. Theadd-on has a total of 319,582 users.

TechNewsWorld is a big fan of Pocket. The Firefox add-on functions by saving articles and other Web content that you want to read later. Right-click within Firefox and place the page in Pocket, and it will sync across devices for reading later — on or offline.
No. 5: Firefox Browser for Android
The Firefox Browser for Android app claims 10,000,000 to 50,000,000 installs andhas an average Google Play Store rating of 4.2 stars out of a possible 5 from 222,493reviewers.

This is not strictly a Firefox browser add-on — it's more of a Firefox browser accoutrement. Ifyou have an Android device, it's worth sauntering over to the Google Play store anddownloading a free Android version of the Firefox browser.
Then look for the sync functions within your Firefox browsers — desktop and mobile — and sync your settings, bookmarks, and so on across the devices.
Want to Suggest an Apps Collection?
Is there a batch of apps you'd like to suggest for review? Remember, they must all be for the same platform, and they must all be geared toward the same general purpose. Please send the names of five or more apps to me, and I'll consider them for a future All Things Appy column.
And use the Talkback feature below to add your comments!