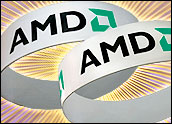 Server computers used by businesses have certainly gotten slimmer, lighter and more energy efficient in recent years. So have notebook PCs. Now it's the desktop's turn, asAMD,Intel and other chipmakers roll out silicon for sleeker desktop designs.
AMD this week unveiled its roadmap for more energy-efficient chips, which includes a plan to pick out the most energy efficient Athlon and Sempron processors from its current manufacturing line and to cut the electrical wattage consumed by the chips about 30 to 60 percent, the company said.
"What we're doing now is we're screening for the lower-power parts," AMD Desktop Brand Manager Teresa de Onis told TechNewsWorld. "We're screening and pulling out the ones that yield at 65 watts and 35 watts," she said, referring to a standard AMD chip power use figure of 89 watts.
Looks With Less
AMD, which is making the energy efficient chips available this month, said enterprise customers are looking to reduce the costs of running and maintaining machines, while consumers are demanding lighter, less bulky desktop computers that resemble their laptops and cell phones more than the boxed components of yesterday's desktops.
By running more efficiently as well as cooler, the chips reduce the need for large power supplies, fans and other components.
The company hopes to continue the success it has already had with more energy efficient chips in servers and desktops.
"AMD's new family of energy efficient desktop processors nicely complements PC manufacturers' need to design and deliver smaller, sleeker form factors into the market," said In-Stat Principal Analyst Jim McGregor.
Efficiency Ebb
AMD is not alone in its quest to reduce the size and energy requirements of computer chips. Sun Microsystems recently introduced its more efficient, multi-threaded Niagara processor into the enterprise market, and Intel is working on its own plan to reduce the power bill for its chips.
"This is something Intel and AMD have been working on for quite awhile," Semico Chief of Technology Tony Massimini told TechNewsWorld.
Intel's new Core micro-architecture is aimed at bumping up performance along with power savings, and AMD's roadmap this week is likely the company's effort to get in front of its larger competitor, Massimini said.
"Obviously, AMD is coming out with this to be able to answer performance gains by Intel," he stated.
Power Struggle
While the designs are needed for smaller form factors, the main reason that power efficiency is becoming so important is the increased cost to run large numbers of computers, perpetuated by higher energy prices, according to Massimini.
"All that energy adds up," he said, referring to PCs, servers, air conditioning and other needs. "You start adding in so many factors."
Massimini praised the efficiency efforts by chipmakers, adding that for AMD, the strategy is also aimed at continuing the company's headway in the enterprise.
"It makes them look a lot better to the IT community," he said.
New Battlefront
Given that energy efficiency was one of the overriding factors of Intel's recent change in micro-architecture and the increasing demand for smaller form factors, processor power efficiency is emerging as a key factor for chip manufacturers, Mercury Research President Dean McCarron told TechNewsWorld.
The positioning and marketing may get muddy as one company's mobile chip in a desktop is compared to another company's desktop chip, but there is little doubt that energy will be an issue in the AMD-Intel competition, he noted.
"I think we'll see more performance-per-watt and more raw power consumption as factors as the two companies compete for design," McCarron predicted.