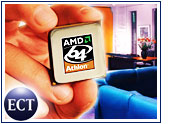 It may be just in North America, just on the retail desktop and just a week, but challenger AMD is being credited with selling more of its processors in retail desktop machines than rival Intel for the week ended April 24th.
In the findings from La Jolla, California-based Current Analysis, AMD accounted for 52 percent of retail desktop sales compared with Intel's 47 percent for the week, in contrast to total PC market shares of 37 percent for AMD and 61 percent for Intel, but it is the first time in almost five years that AMD has surpassed its larger competitor, according to Current Analysis senior desktop analyst Toni Duboise.
"Why this is significant is this is the first time in a long time — since Duran — that AMD was able to challenge Intel on any kind of scale like this," Duboise told TechNewsWorld.
Value and View
Duboise, who reported that Intel still dominated in notebook processor sales, with 81 percent of sales compared to AMD's 17 percent in the same week, credited value proposition for AMD's desktop achievement.
"It shows greater notoriety and greater acceptance for AMD from consumers," Duboise said.
Duboise also credited AMD's selling of the Athlon XP and Athlon 64 with HP machines that were advertised with companion LCD monitors, a driving force in desktop sales because consumers get better deals with bundles.
The analyst added that while AMD has been gaining steadily on Intel in retail desktop sales since the fourth quarter of last year, Intel is expected to bounce back to retake the lead in the near future.
Higher Market
DuBoise said the desktop machines that sold well for AMD — HP PC packages from US$640 to $1,200 — showed that buyers are looking for performance and capability more than value in the face of digital music, picture and video files.
"More and more consumers are open to and wanting a degree of higher performance now," she said. Duboise also added that the strong sales of the Athlon 64 bode well for the future of the processor and 64-bit computing.
"A 64-bit processor is before its time, but this heralds well for its potential," she said.
White-Box Advantage
Mercury Research president Dean McCarron told TechNewsWorld that the first quarter of 2004 was not a good one for processors, even though a letdown from strong fourth-quarter sales was expected.
McCarron, who referred to both AMD's and Intel's reported excess of mobile products and disappointing mobile market, said the first quarter of this year has been marked by strong system integrator or reseller sales, also known as white-box sales.
"AMD does well there because they had trouble with [original equipment manufacturers] in the beginning; they've always been strong [in white-box PCs]," McCarron said. "The strength of that market was something that favored AMD more than Intel. It's one of the rare times that AMD is in an advantageous position in a down market."
Time for Transition
McCarron said while there are indications that second-quarter processor sales will not be stellar, he is hopeful that the second half of the year will bring the usual lift to PC and chip purchases.
He also said significant product transitions — AMD, from Athlon XP to a new process and the Athlon 64, and Intel, with the new Grantsdale chipset and other graphics and architecture changes — may slow the market.
"All of these are pretty major transitions," McCarron said. "Any one of them would be big, and it's all happening at once. During transitions like these, you typically have a market that is usually more cautious."