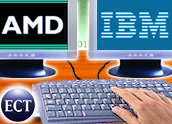 AMD and IBM announced a collaborative breakthrough in processor technology today, marking the first use of two new techniques that advance speed and performance without requiring more power.
Chip giant Intel has already produced processors with so-called strained silicon technology that offsets power and heat problems, but the AMD-IBM advance draws on both strained silicon and silicon-on-insulator [SOI] technology, which allows the chip performance increase with today's power levels, the companies said.
Both AMD and Intel indicated their own chip solutions with the combined technologies will be available next year. Analysts said Intel is likely to follow suit with its own SOI technology solution.
"I don't think it will impact the market," Gartner research vice president Martin Reynolds told TechNewsWorld. "It's just something they need to do to keep up, and I think we'll see Intel with similar advances, too."
Next-Gen Chips
Chipmakers are facing more challenges as they ramp up the speed and performance of processors, requiring more energy and creating more heat. Strained silicon and SOI have been developed to reduce electrical leakage and heat, making processors more efficient.
AMD and IBM said their new strained silicon process, called "Dual Stress Liner," enhances the performance of both n-channel and p-channel transistors. They also indicated the chips do not require new production techniques and can be rapidly integrated into volume manufacturing using standard tools and materials.
Details of the technique are being disclosed this week at the 2004 IEEE International Electron Devices Meeting in San Francisco, said AMD and IBM, which have been collaborating on the technology for almost two years.
Strained and Insulated
Reynolds said both the strained silicon and silicon-on-insulator technologies are allowing chipmakers to continue advancing in the face of larger challenges, adding that the combination of the two technologies was significant.
"They're both good technologies," he said. "AMD and IBM will be the first to ship these technologies together. It's useful."
Reynolds indicated that the technique will allow transistors to send signals faster over longer distances or to send signals the same distance using less power, which is likely where chip manufacturers will focus the technology.
"Chances are, they'll get more value out of lower power than faster," he said. "These things are getting difficult to speed up now [without power and heat issues]."
Progress Problematic
Reynolds said that with the difficulty of maintaining processor advances, companies are looking to collaboration and combined technologies to overcome the challenges.
"It's like building a space shuttle instead of a battleship," he said. "You're seeing these things that are nothing like what you've seen before."
Meta Group Vice President Steve Kleynhans agreed, telling TechNewsWorld that the laws of physics, as well as the need for market success, have made chip making more difficult.
"As we continue to move forward with Moore's Law, it gets harder to get to the next level and do so in a way that is both manufacturable and cost-effective," Kleynhans said. "[Manufacturers] must also create products that can be built into real, usable applications."
Kleynhans predicted more, similar announcements on new processor technologies that might not mean much to consumers or users but that will be essential to the chip industry.
"I think you'll see a continued series of announcements because it's getting really hard to build these things," Kleynhans said.
The analyst added that the partnerships and collaboration are also likely to continue. "This is a very expensive, high-stakes poker game, and to improve their odds, you will see these guys continue to partner up to minimize their risk and find little bits of technology they need for their final solutions."