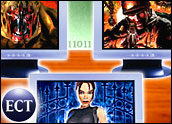 AMD and Intel have shifted focus away from processor clock speed toward such issues such as power and heat. But the gigahertz are still climbing in one market segment: theultra high-end, where gaming enthusiasts want the fastest silicon available.
It is not a large market, but it is a loyal one that includes customerswilling to leave behind a $2,000 system and upgrade in a year's time to a$2,500 system.
Both AMD, with its Athlon 64 FX-55 and 4000+, and Intel,which is refreshing its Pentium 4 Extreme Edition processors, are looking tostay true to clock speed and serve the small segment.
Holding at High End
"The heart of the industry is moving away from clock rate speed," MercuryResearch president Dean McCarron told TechNewsWorld. "This segment isn't the heart ofthe industry."
While desktop and notebook PCs have dropped in price even in the face ofperformance and other improvements, the high-end PCs used for gaming thatcontain the latest and greatest silicon and graphics cards have risen inprice.
McCarron said these "boutique products" serve an audience of only about 20,000 users, but the machines are also about bragging rights.
"They're basically getting the highest performance that is achievablewithout overclocking," McCarron said. "It's the absolute maximumperformance."
Just In Time For Holidays
McCarron said that as both AMD and Intel prepare to unveil new, ultra high-endprocessor refreshes later this month that will push the 3.5 GHz mark, thecompanies are cutting it close when it comes to having machines with the chips available this holidayseason.
However, because of the loyal nature of the market and the fact thatsystem replacement is far more likely with extreme gamers, the companiesshould be able to pull it off, according to McCarron.
He added that in the ultra-high end desktop market, a new version meansthat all previous versions are no longer of value.
Speed Endures
Last week, Intel announced it was backing off earlier promises to deliver a4 GHz Pentium 4 processor next year.
Analysts, including Gartner research director Martin Reynolds, said themove was a significant departure from the chip leader's previous stance anda late refocus on other issues such as power and heat, which have becomemore important with mobile and more powerful systems.
McCarron, however, said when it comes to the ultra high end, the focuswill continue to be on higher clock rate speeds, which can be expected fromboth AMD and Intel.
The analyst added that although products for this marketcan help the chipmakers and their partners promote other products, thesegment has not grown and is unlikely to expand in the foreseeable future.