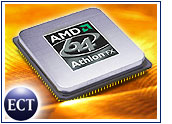 AMD is pushing its Athlon 64 processor further into the mobile-computing world with new models designed to provide low-power performance in the thin and light notebook market.
The Sunnyvale, California-based chipmaker announced its Athlon 64 2800+ and 2700+, immediately available worldwide, offering 32-bit computing and seamless transition to 64-bit applications. Acer and Chinese manufacturer Amoi Electronics will be among the first delivering the new mobile Athlon 64 in notebooks due this month and the second half of the year, respectively.
The chips will showcase AMD's low-power technology and, in addition to compatibility with popular wireless solutions, will be secured by a new Enhanced Virus Protection security technology that will be enabled with the upcoming Windows XP Service Pack 2 (SP2) from Microsoft, AMD said.
Thin and Light, Heavy Security
AMD said the new low-power offerings would deliver extended power life thanks to its PowerNow Technology and would provide a higher level of security for XP SP2 virus protection.
"Now thinner and lighter notebooks can be fueled with this same cutting-edge performance plus security enhancements to be enabled by the upcoming Windows XP SP2," said AMD vice president and general manager Marty Seyer. "We're bringing customers peace of mind by helping them protect their data and their PC investment."
Priced in 1,000-unit quantities, the new Athlon 64 2800+ and 2700+ will cost US$241 and $209, AMD said.
Cutting Down Worms
Gartner research vice president Martin Reynolds told TechNewsWorld that the enhanced security features with XP SP2 are likely to help cut down on the spread of worms such as the recent Sasser outbreak.
"It's a good way to cut away at the nastiest worms," Reynolds said. "We'll see that across the board from both AMD and Intel. When Microsoft starts shipping [XP SP2], Intel will [offer security features] too."
Reynolds also said the Athlon 64 mobile processors come as no surprise because AMD is transitioning all of its processors to 64-bit computing capability.
"You have to think of [the Athlon 64] as the next-generation Athlon," Reynolds said. "They're eventually going to make everything 64-bit anyway. They're not going to continue legacy stuff."
Making Mobile Sense
Aberdeen chief research officer Peter Kastner told TechNewsWorld that the Athlon 64 has managed increased market traction because it is "a lot of performance at a good value."
"As more consumers buy notebooks as desktop replacements, it makes sense for AMD to replace its mobility processors with 64-bit Athlons," Kastner said.
While he referred to the increased expense of making laptops, Kastner said the laptop share of the total PC market is rising steadily, prompting a response from chip and PC makers.
Ferrari First, Then China
Acer said its new "Ferrari" brand of thin and light notebooks, aimed at both the consumer and business markets, would feature the new Athlon 64s.
Chinese manufacturer Amoi indicated it would be using the new processors in a widescreen version notebook as well.
"As the first China original equipment manufacturer to announce development of a low-power Athlon 64 processor-based notebook, we expect to bring real benefits to our customers," said Yale Guan, general manager of Amoi's IT group. "The Amoi VA series will be equipped with the latest high-performance processor, as well as a widescreen display in an attractive slim and wide form factor."