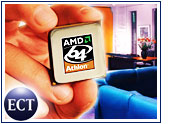 In a move that keeps it competitive with rival Intel, chipmaker Advanced Micro Devices announced four new desktop processors based on a new 939-pin package that the company said will bolster memory support and boost performance.
AMD said its four new Athlon 64 processors, which now have memory capabilities similar to its successful Opteron server processors, also will feature its Enhanced Virus Protection (EVP) hardware security and Cool'n'Quiet power-management technology.
Announced at the Computex silicon conference in Taipei, Taiwan, the new processor technology — in the forms of the Athlon 64 FX-53, 3800+, 3700+ and 3500+ — will be featured in systems from manufacturers such as HP, including a new Compaq X Gaming PC that is set for U.S. release next month.
"With the new line of AMD processors, we are able to offer our Compaq X Gaming PC customers a powerful gaming system — enabling a more realistic and exciting view of their favorite PC games," said HP North American consumer computing vice president Sam Szteinbaum.
Opteron Tech in Athlon
Use of a new 939-pin platform for desktop Athlon processors was not a drastic or risky move for AMD because the company already uses the technology in its Opteron server chips, Mercury Research president Dean McCarron told TechNewsWorld.
"The reason for doing it is the larger pinout allows them to support a wider memory base," McCarron said. "It's letting them come out and hit some higher performance points."
AMD said the new 939-pin package, along with its Direct Connect Architecture connecting the memory controller and input-output to the central processing unit, will give customers better performance and motherboard longevity.
Matching on Memory
McCarron said the new desktop chips, which also feature faster, 2-GHz HyperTransport technology, represent AMD's efforts to keep pace with its larger competitor Intel, which already supports the dual-channel memory made possible by the 939-pin package.
"Essentially, you had the competition supporting both single- and dual-channel memory," he said. "This lets AMD match them for the future in terms of memory. This is basically AMD keeping up with the competition."
AMD said the new processors, priced between US$500 and $800 in quantities of 1,000, are immediately available and will be sold in new, "processor-in-a-box" recyclable packaging intended to improve ease of use while reducing environmental impact.
Silicon Security
The company emphasized that its new processors also address the need for increased security with Enhanced Virus Protection technology, which will be enabled for Windows XP machines in the forthcoming Service Pack 2 (SP2) from Microsoft.
"Enhanced Virus Protection, an exclusive benefit of desktop and mobile AMD64 processors, will provide another layer of protection against many rampant virus attacks when enabled by the upcoming Microsoft XP SP2," said AMD vice president and general manager of the microprocessor business unit Marty Seyer.
Gartner research vice president Martin Reynolds told TechNewsWorld that the enhanced security, which likely will be effective in stemming the spread of computer worms, also will be offered by Intel when SP2 is released later this year.
"It's a good way to cut away at the nastiest worms," Reynolds said. "We'll see that across the board from both AMD and Intel."