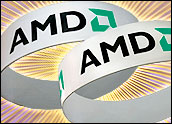 Advanced Micro Devices rolled out new and improved versions of its dual-core Opteron server processors this week, touting better power efficiency and virtualization capabilities.
AMD said its new Rev F chips will carry it through to the end of the year, when it plans to make the transition to quad-core processors. Hewlett-Packard, IBM and Sun Microsystems are among a list of vendors that have announced plans to sell servers equipped with the chips.
Anticipating Quad Core
AMD highlighted performance-per-watt gains and virtualization advances with its Direct Connect microprocessor architecture; the Rev F chips are equipped with a new high bandwidth socket, which makes it possible to upgrade to quad-core functionality with the chips in the future.
"Today's announcement represents continued innovation along the customer-directed path we blazed years ago," said AMD Server and Workstation Division Vice President Randy Allen. "We provide the complete x86 processor architectural standard for others in the industry to emulate and have planned a seamless upgrade path to quad-core processors."
The firm's announcement was widely viewed as a countermeasure to rival Intel's newest Core 2 Duo processors unveiled late last month.
AMD managed to beat Intel to a dual-core processor release with Opteron last year, but Intel, aggressively seeking to retake the industry lead in cutting-edge technology, announced last month plans to release quad-core processor technology by the end of 2006.
One Chip or Two?
AMD's approach is different than Intel's, according to Gartner Research Vice President Martin Reynolds. The company is looking to provide quad-core functionality in a single Opteron chip, while Intel is more likely to couple dual-core chips for its quad-core configuration.
"To the user, it doesn't make much difference," Reynolds said, explaining that the performance, power and other benefits of multiple cores get to users in both scenarios.
Steps Ahead
AMD's Opteron announcement and forecast of quad-core technology are intended to show the market that the smaller chip company has an answer for Intel's quad-core launch, said Semico Research Chief of Technology Tony Massimini.
"AMD is not resting on its laurels," he said. "[It] can't because Intel certainly is going to come at [it] strong."
While Intel is still poised to beat AMD to market with its quad-core product release, AMD's biggest weapon — the firm's planned move from 90-nanometer manufacturing to more efficient 65-nanometer technology — may be yet to come, Massimini told TechNewsWorld.
"I'd expect even more improvement with that," he said.