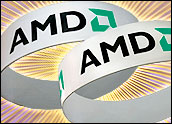 Advanced Micro Devices unveiled new desktop processors this week that feature a new chip socket platform aimed at easing the update to newer DDR2 memory technology and processor virtualization.
AMD said its new socket AM2 platform makes use of AMD chips — such as the new Athlon 64 X2 5000 dual-core processor — easier for motherboard and systems makers at the same time it reduces cost through better economies of scale.
The new chip socket technology represents a big change for AMD, Insight64 Principal Analyst Nathan Brookwood told TechNewsWorld, "especially considering AMD has not changed their platform for desktop processors since they released the Athlon 64 three years ago."
Moving for Memory
With the newly available desktop Athlons, AMD is updating its chips from DDR memory to newer DDR2 memory, according to Brookwood, who said the existing AMD socket technology did not have the electrical characteristics necessary for DDR2.
"It was really forced on them by the switch to DDR2," he said.
The typical challenges of changing chip technology or platform may not be as difficult this time, however, because DDR2 is an established, mature memory technology, Brookwood added.
Platform Push
AMD indicated its new chip socket technology was part of a larger effort to support the AMD64 ecosystem, and desktop division vice president Bob Brewer said the technology will bring noticeable improvements to users.
"We are again pushing new levels of performance in our dual-core processors while enabling meaningful innovations like AMD virtualization and DDR2 memory," Brewer said.
The new socket AM2 chips are now available and will be used in computers from Alienware, Fujitsu, HP, Lenovo and others, AMD said.
Timing Is Right
When making such a change in chip technology, companies try to build in as many improvements and upgrades as possible so they will not have to change again too soon, Mercury Research President Dean McCarron told TechNewsWorld.
While AMD cannot be ahead of current technology, which would limit chip production, it cannot be behind, either, and the DDR2 is the current memory technology, he noted.
"The timing's right for it," McCarron said, adding motherboard makers will be able to focus squarely on the new socket technology, and consumers may enjoy lower prices and a slight performance improvement with DDR2.
Laying Groundwork
The new AM2 socket platform appears to be sufficient for AMD's desktop chips for the next two to three years, according to Semico Research Chief of Technology Tony Massimini.
Meanwhile, AMD also introduced new electrical and other characteristics with AM2, laying the groundwork for quad-core processors in 2007 similar to the way the company prepped for dual-core chips that arrived last year.
"Just as they were able to drop a dual-core in a single-core socket, they'll be able to drop a quad-core processor in a dual-core socket," Massimini said. "It's really simplifying life for motherboard and systems suppliers."