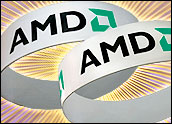 AMD on Thursday began shipping its latest quad-core Opteron processor, codenamed "Shanghai."
Shipping earlier than previously planned, the chips arrive on the market shortly before the expected arrival of new Nehalem processors, competing hardware made by rival Intel.
The new offering, according to the company, provides up to 35 percent better performance than the company's Barcelona quad-core Opteron, and as much as a 35 percent decrease in power consumption at idle. The new server chip also features improvements in the chip design for enhanced virtualization performance and increased performance per watt, according to AMD.
However, Shanghai's release has greater significance beyond it technological specifications. It is an indicator that AMD is attempting to regain its footing after the lukewarm launch of its previous quad-core chip, Barcelona, in September 2007.
That roll-out was marred by protracted delays, bugs and generally lower-than-expected performance.
"[Shanghai] shows the execution issues of Barcelona seem to be behind [AMD]. They look to have hit their announced time lines, which is great, versus the misses that happened with Barcelona," said Ian Lao, an analyst at InStat.
With the Barcelona stumble behind AMD, Shanghai could be what the No. 2 chipmaker needs to help rebuild confidence in its brand.
"The biggest is showing AMD resolving development issues of their house, and [it] goes a big way to re-establishing their credibility. The customers of AMD's customers view this credibility as important as they make their IT purchasing decisions," Lao told TechNewsWorld.
Shanghai Surprise
Rather than go out and design a completely new quad-core chip, Shanghai is really an upgraded version of Barcelona with some enhancements in virtualization and increased speeds. Those are the results of moving to a 45-nm layout and re-architecting parts of the cores, explained Jim McGregor, another InStat analyst.
Improvements to the chipmaker's Direct Connect Architecture and AMD Virtualization technology have enabled the processors to deliver faster "world switch" time, enhancing virtual machine efficiency. The new chips offer optimizations targeted toward server platforms, said Lao.
"[The] biggest win is keeping the same power envelope so OEMs (original equipment manufacturers) don't have to re-design their power supplies and power backplanes. For customers, they can get more servers/performance/server for a given physical footprint, power footprint," explained Lao.
The Shanghai line of server processors consists of nine models, all of which have four cores — five from AMD's two-way Opteron 2000 server system series and another four from the eight-way Opteron 8000 series. The Opteron 2000 line will include 2.3-, 2.4-, 2.5-., 2.6-, and 2.7-GHz speed grades. The Opteron 8000 line will forgo the slowest 2.3-GHz version.
Prices for the two-socket variety will range from US$377 to $989 at launch, with the 8000 series priced between $1,165 and $2,149.
Shanghai "extends the AMD64 architecture in the same socket, power envelope and thermal model as the previous generation," McGregor told TechNewsWorld.
Constant Competition
With Intel set to launch its second-generation Nehalem 45-nm server chip within a matter of days, AMD must execute, said Lao.
"The big thing is to consolidate their messaging and execution. If a product or tech is announced with a schedule, show it when promised," he pointed out.
The release of Shanghai is a critical moment for AMD to re-establish credibility in the market and maintain — or potentially grow — its presence in the server market, but it is only part of what AMD needs to regain its footing, said McGregor.
"Intel is not going away and only is becoming more competitive with the upcoming launch of Nehalem, so the environment [from here] on gets more competitive. As for the economic environment, both companies face challenges. With its high presence in the retail channel, AMD faces an immediate hit, but this is also likely the first segment to return during the upswing. The corporate market, which Intel dominates, may face a more challenging environment for a longer period of time, but Intel is in a great position to weather this storm," McGregor pointed out.
"The good news is that AMD is regaining its footing a bit, and other companies are focused on being competitive. In the end, the market wins from having this level of competition and two healthy competitors. AMD just needs to complete that transition to being financially healthy, which is the company's primary focuses," he concluded