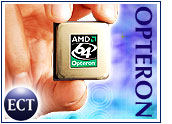 Chip challenger AMD marked the one-year anniversary of its Opteron processor this week, touting the chip's 64-bit computing capabilities and indicating it will expand its market to the four-way server datacenter sector as well.
AMD credits Opteron's lowering of the 64-bit threshold for the success of the chip, which is 32-bit and 64-bit compatible with x86 architecture. In addition, AMD said demand has driven top original equipment manufacturers (OEMs), including HP, IBM, Sun and Fujitsu Siemens, to ship the processor in its first year.
However, industry analysts suggested that the chip's 64-bit computing capability is not as compelling as its price tag.
"It's a price-performance story," Gartner research vice president Martin Reynolds told TechNewsWorld. "When you get an Opteron box, you get a lot of capability for what you pay, so it's just cost-effective."
Investment Protection
Dirk Meyer, senior vice president of the computation products group at AMD, said the Opteron processor has transformed 64-bit from an elite class of computing accessible to only a small part of the market into a pervasive technology.
For his part, IDC vice president Vernon Turner said AMD has helped change the industry landscape by bringing Opteron and the AMD64 technology more into play.
"OEMs who have added AMD Opteron processor-based servers to their portfolios have expanded their addressable market for the x86 marketplace," Turner said. "The AMD Opteron processor gives enterprise customers flexibility and scalability with the investment protection of an industry-standard server platform."
Obsolete from Opteron?
For his part, Marty Seyer, vice president and general manager of the microprocessor business unit at AMD, said Opteron has delivered "the best way to get to 64-bit computing" and is making 32-bit only servers "obsolete."
James Mouton, vice president of the industry standard servers platform group at HP, said his company chose to expand with the AMD Opteron because of its performance advantages in 32-bit computing. These benefits are helping to accelerate the chip's adoption by independent software vendors (ISVs) and advance future 64-bit environments.
AMD said it now will take Opteron's Direct Connect Architecture to "the key four-way server market for the datacenter that has withered over the years." The company also will target low-power datacenter solutions with the AMD Opteron HE at 55 watts and the EE at 30 watts.
Value Servers
However, other analysts indicated Opteron has benefited most from poor economic conditions and price-conscious suppliers and buyers.
"Customers are saying that Opteron is a damn good chip at a great price, which has allowed HP and IBM to deliver value servers," Aberdeen Group chief research officer Peter Kastner told TechNewsWorld. "Coming out of a recession, IT organizations are more value-conscious, and AMD has hit a sweet spot."
Kastner downplayed the role of 64-bit computing in Opteron's success, adding that machines capable of the higher-level computations typically have more processors than Opteron currently covers.
Competition Coming
While analysts agreed that the 64-bit capabilities and performance will play a larger role down the road, they also suggested Intel will be challenging Opteron more aggressively going forward.
"Intel has already announced that it will have identical 64-bit computing, so you can be sure the competitive fray will result later on this year," Kastner said.
Reynolds, who said Intel likely would have held off on its 64-bit announcements without AMD's Opteron rollout, noted that Intel will be putting more performance pressure on its smaller rival.
"There comes a point where the Intel stuff will be sufficiently faster to where it doesn't make sense to choose Opteron, so AMD has to keep moving," Reynolds said. "They have to keep performance going, and they have to keep the technology advancing."