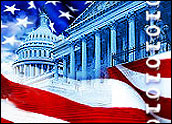 You didn't have to be at the meet and greet event thissummer when Virginia Senate hopeful George Allen referred to his opponent's volunteer — who was present in the crowd video taping the speech — as "macaca," a remark perceived as a racial slur against the Fairfax, Va., native of Indian descent.
All you had to do wastype a few keys atYouTube.com, and it was as good as being there. Better, certainly, than reading about itin the Washington Post, which ran roughly 30 articles,editorials and related news items about Allen's gaffe.Better even than watching it on network news, because asearch on YouTube also yielded a related ComedyCentral skit by Jon Stewart, as well as other videosheaping ridicule on the political process in generaland Allen — who, it must be said,eventually apologized and explained he hadn't meantthe word as a racial insult — in particular.
Call it "Election 2.0." Call it the revenge of voterstired of watching the increasingly negative 30-secondads on network television. Whatever the reason, it isclear that voters are going outside mainstream media –far outside — to learn more about the candidates andthe issues.
Consider YouTube, says Robb Hecht, an adjunctmarketing professor at the City University of NewYork's Baruch College and social tech mediastrategist.
"Its role in this year's elections cannot beunderestimated," he tells the E-Commerce Times. "Whilepeople need to tune into CNN, they also need to checkout YouTube's vault of political videos and sites likeWhereIStand.com to find out where [the politicians]stand on issues."
For political newbies or just anyone interested inlearning a bit more about the candidates, theE-Commerce Times has compiled a list of politically orientedWeb sites that range from providing educationalinformation to partisan talking points.
Back to Basics
TheLeague of Women Voters has anadmirable history of providing nonpartisan informationabout candidates and the issues.
Last month, itintroduced a comprehensive Web site for the electionsatwww.VOTE411.org. The site provides detailedinformation about such issues as absentee ballots, ballot measures and earlyvoting options, election dates, ID requirements,registration deadlines, voter qualifications,registration forms, voter machines, and factual data oncandidates in the various races, including those running in localcontests.
You can search the site by state or byissue.
Mainstream Media and Points Beyond
Bloggers love tobash mainstream media, or MSM, but on election night that is where they willbe. All of the newspapers offer up-to-the-minutecoverage; indeed competition to call an election amongthese players is fierce.
In the hotly contestedpresidential election of 2000, Fox news came underfire for claiming Bush had won the election that nightand — according to some Democrats at the time –unfairly giving him an advantage in the subsequentfight by casting Gore in the role of challenger.
Media outlets have since reviewed their processes toensure that such a fiasco does not happen again. Sites withgood election night coverage include, but are not limitedto,The New York Times,USA Today,Fox News andCNN.
YouTube.com
Politicians and their operatives are nodummies. YouTube might have started out as a site for ordinary people to post their own videos, but it is nowwell seeded with videos produced by candidates — bothfocusing on themselves and on their opponents.
Watchdogs and Other Guardians
Foundations, councilsand think tanks — partisan as well as neutral — followpoliticians like hawks, watching for missteps ormistakes. Many of these sites tend tolean liberal. Ethical lapses, a frequent topic of discussion, have been in the news a lot lately and are being cited by Democrats as a reason tovote out the Republicans.
However, these sites also tend toidentify government misspending and bloat, which makes them dear to thehearts of many fiscal conservatives.
Citizensfor Ethics andOBM Watchare two excellent sites that consistently show theyare on the ball when it comes to watching Washington.
The HeritageFoundation is the conservativemovement's bible, providing strong policy arguments tosupport its positions.
The Juicy Stuff
With memories still vivid of an impeachment and a disputedelection, and growing fears that both may be on thehorizon again, it is difficult to find a trulyindependent voter — unless it is a disaffected andunengaged one.
For the voter who is out for blood — beit Democrat or Republican — there is no shortage of Websites.
Nationally, the more well known ones includeDailyKos,Wonkette (who now has her own column in oneof the big three news weeklies),Rasmussen Reports andtheDrudge Report (not quite a blog but nonetheless awell trafficked site).
Some of these, such as theHuffington Post and RealClearPolitics, have become ablog of blogs of sorts, with many posters and opinionspopulating the site. Be warned — some of the postingscan offend the sensibilities of even the most diehardpartisan hack in us — but then again, so can some ofthe campaign ads airing on network TV.
This list is by no means exhaustive. In the step-up tothe election, we would love to hear from readers abouttheir favorite political news sites and why they likethem.