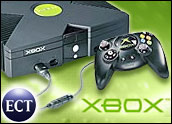 "I want my MTV" is being replaced with, "I want my Xbox," as Microsoft plans to unveil the second version of its Xbox video game console with a half-hour MTV television show hosted by "Lord of the Rings" star Elijah Wood next month.
Although gaming enthusiasts still do not know the name of Microsoft's new gaming hardware, its price, or actual release date, they now know they can find out more about the next Xbox by watching the program, set to air worldwide on the youth-targeted cable television channel May 12 and 13.
Industry All Ears
Microsoft's marketing moves are likely to gain the attention of its younger target audience, but industry observers indicated Sony is likely to match the hype with its own plans to unveil the PlayStation3 in the continuing console battle, leading up to the Electronic Entertainment Expo (E3), set for May 17-20 in Los Angeles.
"I think from a market perspective, there are expectations that Xbox will come out later this year and PS3 will come later, next year," Parks Associates senior analyst Michael Cai told TechNewsWorld. "If that's the case, then E3 is going to be the biggest coming-out event we've seen in a long time. The industry is really looking to learn more about these consoles."
Announcing the Announcement
Gamers and industry watchers had anticipated dueling press conferences and demonstrations as Microsoft and Sony faced off with their latest console weapons at E3 until Microsoft announced this week it would preempt the show's unveilings with its MTV plans. Its on-air unveil will feature well-known game junkie Wood, as well as rock band The Killers.
In a joint release, MTV and Microsoft said the inside-look at the new console — which has been rumored to be dubbed Xbox2, Xbox360 and Netbox among other names — will highlight the always-connected, personalized, high-definition features of the next-gen gaming device.
"The special will feature never-before-seen, action-packed game play of future Xbox games, a peek into the future of the Xbox Live online gaming service, backstage celebrity interviews and exclusive insider footage on the making of the next-generation console," the companies said.
After the show airs next month, the program will be available at MTV's Web site, where users will also be able to access additional event coverage and news on the next Xbox.
Details and Differences
Although both Microsoft and Sony have revealed some information on the technology and features of their new console products, there are still a number of unanswered questions regarding how the updated versions will differ from the existing Xbox and PlayStation2, according to Cai, who covers the gaming industry.
Inclusion of a hard drive, support for high-definition video and graphics and 3D, multimedia connectivity between the console and other devices such as PCs, and network interface were all among the unknowns at this point, Cai said.
He added that other important factors on the consoles that have yet to emerge include game titles, price, and whether the vendors will support online distribution and sales.
Break from PCs
While there is still speculation on exactly how the new Xbox and PlayStation will interact with other devices, hardware and software advances have allowed Microsoft to move away from the PC architecture of its first console and plot a unique route for Xbox, Mercury Research president Dean McCarron told TechNewsWorld.
"They're not borrowing any PC technology to any great extent," he said. "It'll give them a little more freedom in terms of how they implement it, and one of the things we'll probably find out is how they used that freedom."
McCarron added that because advancements in software development have eased the porting of games from PC to console platforms, Microsoft is no longer as tied to the PC platform and can focus more precisely on Xbox game development.
Major Marketing Fight
Cai was more interested in Ethernet support than celebrity support for the next Xbox or PlayStation, but he indicated Microsoft's MTV marketing was aimed at the right audience for the message.
"I think there are a lot of overlaps between MTV and the target of game consoles," he said.
The analyst — who indicated it will be equally interesting to see how Sony markets its next-gen console considering its recent push for the PSP handheld gaming device — said both giants will be pulling out the stops for their new consoles.
"It only comes around every five or six years, so they are going to put in a lot of resources and effort," Cai said. "Especially Microsoft. They were late with the Xbox compared to the PlayStation, so they want to really win this battle."