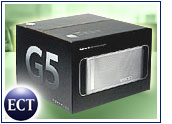 Apple announced Monday it is shipping the first of the highly anticipated G5 processors in two models of the Power Mac desktop computer.
Billed by the company as the "world's fastest personal computer," the Power Mac G5 takes advantage of 64-bit processing, new cache technology and increased memory support to deliver what industry observers call a long-overdue overhaul of Apple's hardware.
Analysts said the PowerPC G5 processor, designed by IBM and Apple, will give Mac users dramatically improved performance in the high-end, gaming and graphics markets.
"The G5 is a hot box and one which for the first time in several years gives Mac owners some bragging rights versus their industry-standard brethren," Aberdeen Group chief research officer Peter Kastner told TechNewsWorld.
G5 Released
Apple said it has begun shipping two single-processor models of the Power Mac G5, with the dual 2.0 GHz G5 scheduled to ship later this month. The Cupertino, California-based company said it has received more than 100,000 orders for the Power Mac G5, which was introduced June 23rd.
The G5 represents the first personal computer featuring 64-bit processing and a 1-GHz front-side bus, Apple said.
The company credited the 64-bit processor with the ability to move beyond conventional desktop memory limitations. According to the company, the 64-bit computers will be able to run 32-bit applications natively.
One, Two-Chip Punch
The first available Power Mac G5 will come with a 1.6-GHz processor and 256 MB of 333-MHz, 128-bit DDR memory. The second will ship with a 1.8-GHz processor and 512 MB of 400-MHz DDR memory. The 1.6-GHz Power Mac will cost US$2,000, while the 2.0-GHz one will cost $2,400.
Apple touted the memory bandwidth of 400-MHz 128-bit DDR SDRAM and said this model has throughput of 6.4 GB per second. Other features of the aluminum-encased Power Mac G5 include a 133-MHz PCI interface, AGP 8X Pro graphics capabilities and quiet, computer-controlled cooling, according to Apple.
The forthcoming dual-processor G5, priced at $3,000, will come with twin 2.0-GHz processors, each possessing a 1-GHz front-side bus and delivering 16 GB of bandwidth, Apple said.
Eye on Architecture
IDC research director Alan Promisel told TechNewsWorld that while the G5 is aimed at Apple's core audience — high-end users, gamers and audio-visual producers — the 64-bit desktop computer is being closely watched.
"It's definitely an architecture the commercial IT managers are keeping an eye on," he said.
Aberdeen's Kastner, who said the G5 will benefit from the faster processors, new cache and massive memory support, added that graphics designers and image manipulators will see vast improvements in their ability to apply filters, for example, because the code has been optimized for 64-bit computation.
Tech Takes Its Time
Promisel said the G5 is a needed shot in the arm for Apple's Power Mac, which has experienced sagging sales and few architectural upgrades in the last several quarters.
"Something definitely needed to be done on the Power Mac side, which seemed to be lagging," he said.
Still, Promisel said, Apple might be somewhat on a roll with recent successes, such as iPod, iTunes and the company's effort to transition customers to paid services.
Worth the Wait
Promisel said the success of the G5 will not be evident until after the back-to-school and holiday seasons. However, he added, customers in search of "simulation as close to reality as possible" will be willing to pay the G5's higher prices.
Kastner said the G5 processor, after months and years of speculation and anticipation, finally delivers a "better, faster, cheaper, smaller" solution for Apple.
"For a new chip, this is about as good as it gets," Kastner said. "The performance improvements are so evident that only a few minutes in the store demo area will convince many buyers that it's time to upgrade."