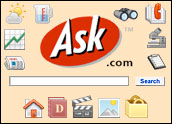 Hoping to add to its paltry market share in the Google-dominated world of Internet search, Ask.com has added a feature that, at the user's request, supposedly deletes records of their online activity. However, the feature might not deliver as much privacy as it seems.
The new "AskEraser" is being touted by Ask.com as the first product of its kind, a tool designed to bring solace to those who worry about their privacy.
"When enabled by the user, AskEraser completely deletes all future search queries and associated cookie information from Ask.com servers, including IP address, User ID, Session ID, and the complete text of their queries," said the company in announcing the AskEraser.
The Push for Privacy
The AskEraser is not all Ask.com is doing to give Web searchers more control over their personal data. Earlier this year, it put in place a new data retention policy to disassociate search history from the user's IP address and User ID after 18 months.
Additionally, Ask.com has joined with Microsoft in pressing for the creation of "global privacy principles for data collection, use and protection" as they relate to Web searches and online advertising.
"Since then, Ask.com has worked with other technology leaders, consumer advocacy organizations and academics to make progress toward the development of these principles, as well as disseminating best practices to provide more privacy control for consumers," the company said in a statement.
Point and Click
The AskEraser function is controlled by a button in the upper right corner of the Ask.com homepage and search results pages. It turns red when activated by the user.
Once that happens, "AskEraser will completely delete your search queries and data from Ask.com servers, including: your IP address, User ID and Session ID cookies, as well as the complete text of your search query — all within a matter of hours," promises Ask.com.
The AskEraser can be turned off at any time.
Don't Ask, Don't Tell
Personal data will be deleted "in a number of hours," the site tells users.
"We're not being sneaky here," wrote Ask.com Senior Product Manager Michael Leo. "We'll get rid of your search activity ASAP."
Nowhere in the AskEraser description or FAQ (frequently asked questions) does Ask.com come right out and tell users that — while the AskEraser will remove their information from Ask.com's servers — it is not preventing Ask.com from first sending the data to Google.
Ask.com has a deal with Google in which it shares search data for ad-serving purposes. That's why most of the "sponsored results" appearing at the top of Ask.com searches come from Google.
The closest the company comes to acknowledging this is a blurb deep within the FAQ that concedes Ask.com "cannot delete your search activity from the servers of third-party companies that receive your search queries to provide you with certain aspects of our search results [such as] sponsored search results and other product features."
Ad Money, Spelled G-O-O-G-L-E
Ask.com's arrangement with Google erases much of the benefit of AskEraser, Harvard University Assistant Professor Ben Edelman said.
"Ask still passes users' search data to Google, which stores and retains that data for an extended period, notwithstanding Ask's supposed commitment not to store it," Edelman told TechNewsWorld. "Ask is in a tough spot. They need Google results to supplement their own. But in integrating Google results, they are subject to Google's policies."
It is difficult to determine what information Ask.com sends to Google, Edelman said. While the AskEraser is on the right track, Edelman said he doesn't like the way the feature is being "sold as a privacy bonus" but "doesn't quite do what users would reasonably expect it to do."
Ask.com did not immediately return a message.