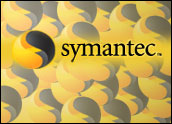 The capability gap between personal computers and mobile phones continues to narrow and, from a convenience and productivity point of view, that's a good thing. But along with the benefits come risks, according to Symantec.
The Cupertino, Calif. company — known mainly for its Norton brand of computing security products — believes mobile devices are now advanced enough to make them vulnerable to the same security issues that threaten personal computers and notebooks.
Based on that belief, Symantec has launched Norton Smartphone Security, a subscription-based software package that, it says, "brings PC-strength protection to smartphones."
GB 2 TXT Spam
Symantec said Norton Smartphone Security is the first consumer mobile security product that works with both the Windows Mobile and Symbian operating systems. Symbian is used in Nokia devices.
"This new product features best-in-class Norton AntiVirus technology as well as a firewall and antispam for SMS (Short Message Service)," said a statement announcing the product.
It said the software can "provide mobile users the same level of security that has become standard for laptops and other computing devices."
WiFi Opens the Door
Norton Smartphone Security protects users' smartphones from viruses "by detecting mobile threats and preventing users from accessing infected files," according to Symantec.
The product is also capable of automatically filtering, or deleting, text messages determined to be unwanted spam and it includes a firewall that "controls both inbound and outbound network traffic" on the device.
Symantec said the solution works with Windows Mobile 5 or 6 as well as Symbian 9.
Many new phones are now coming with WiFi connectivity, noted Rowan Trollope, Symantec's senior vice president of the consumer business unit.
"Smartphones are expanding consumer freedom to communicate and access important information anytime, anywhere," said Trollope. "However, unsecure public WiFi or network connections can put users at risk. In addition, Web and e-mail viruses can directly infect smartphones, enabling hackers to remotely control the device, access sensitive information or disable applications."
Chicken Little Norton?
That sounds pretty scary, but not everybody believes mobile devices are prone to the same threats as are computers running full-fledged operating systems.
A product such as Norton Smartphone Security isn't really needed — not yet, anyway — said Errata Security Chief Technology Officer David Maynor.
"I honestly feel that, at this time, there's not really a huge threat in that space," Maynor told TechNewsWorld. "There's not a need for anybody to be worried about it. I have a Windows Mobile smartphone. I keep Bluetooth turned off and wireless functionality turned off and I'm not really worried about malware."
Most ill-willed hackers look for hidden flaws in the "extra functionalities" of full-sized browsers. "Basically, they look for apps and code that don't often get used and aren't under a lot of scrutiny," he said.
However, because they need to conserve battery power and are dealing with small processors and limited memory, most mobile device operating systems are relatively rudimentary. "The extra functionality gets stripped out," said Maynor. "They lack the bells and whistles an attacker can generally take advantage of."
Sensitive Information
People are increasingly using their mobile devices for banking, Symantec noted. A recent Applied Research survey found 34 percent of respondents said they access their bank accounts with their mobile device and 54 percent said they access Web sites requiring passwords.
"As more users transact using their mobile devices, the financial incentives for virus writers and mobile hackers will follow," asserted Symantec. As smartphones overtake laptops in volume, "cybercriminals will be motivated to shift their attention and take advantage of smartphone vulnerabilities," Symantec said.
However, the biggest threats to those using their phones for such activity are people using "sniffing" software at WiFi hotspots, Maynor said. He questioned whether the new Norton package can guard against that.
"As a consumer, I have no plans to purchase an anti-malware solution for my mobile device," said Maynor. "But, from a long-term point of view, it's good Symantec has a product so that, when actual threats start appearing, they're on top of it."
Secure From the Start
"There really haven't been a lot of hacks or cracks against standard phones and even on the smartphone side it's been awhile since there have been any reported attacks," Jupiter Research wireless analyst Neil Strother told TechNewsWorld.
"The other issue is, if it does happen, if a phone gets hacked and cracked, it's pretty easy to get on another phone, call your carrier and say, 'shut it down,'" said Strother. "It seems to me that's one of the advantages of carrier systems that are pretty robust. They can pretty much shut the thing off. While the potential for disaster on phones is definitely there, carriers have known this for long time. Going back to the early days of cellphones, they were pretty darn secure from the get-go."