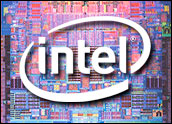 Intel is now mass producing its 45 nanometer architecture Penryn processors at a new, state-of-the-art facility in Arizona, and it expects to have the new chips on the market in about two weeks.
The company spent $3 billion to build the new "Fab 32" processor foundry in Chandler, Ariz., its first high-volume facility capable of creating chips based on 45 nm transistors.
Fab 32 is the company's sixth 300 mm wafer chip factory. Intel first produced 45 nm transistor-based processors, on a trial basis, in January at its Oregon development center called "D1D." Intel plans to open two more 45 nm, 300 mm wafer production plants next year, one in Israel and another in New Mexico.
Small and Fast
The 45nm production uses "breakthrough" technology that involved coming up with a novel approach to reducing energy leakage in the microscopic transistors, Intel said. The transistors use a Hafnium-based high-k material for the gate dielectric and metal materials for the gate, said Intel. The processors are about 20 percent faster and use about 30 percent less electricity than current chips based on 65nm transistors.
Intel says its 45 nm technology allows it to nearly double the number of transistors on the silicon, meaning more than 400 million transistors for dual-core processors and more than 800 million for quad-core units.
In a statement announcing the new plant's opening, Intel noted 45 nm transistors are so small that more than 2 million can fit "on the period at the end of this sentence."
Big and Clean
The transistors are tiny, but the new plant is not. Intel said the structure measures more than a million square feet, large enough to contain more than 17 football fields. About 184,000 square feet is Class 1 clean room space.
That, noted Intel, means there is no more than one particle measuring 0.5 micron or larger per cubic foot of air. "For comparison, hospital operating rooms are Class 10,000, meaning that the air inside Intel's Fab 32 clean room is 100 times cleaner than the air in an operating room," said Intel. "Outside air is near Class 3 million."
Intel Inside, Green Outside
The effort at cleanliness goes beyond the Fab 32 interior as Intel designed the facility to be among its most environmentally friendly plants.
The facility has a number of energy and water conservation measures, and Intel plans to seek the plant's certification as the company's first Leadership in Energy and Environmental Design (LEED) factory. LEED is a green building rating system developed by the U.S. Green Building Council that provides a set of standards for environmentally sustainable construction.
Intel's efforts to make the plant "green" are praiseworthy, said Pund-IT senior analyst Charles King.
"The focus on the green aspects of the production facility reflects a growing awareness of ecological issues within the IT industry," King told TechNewsWorld. "It's happening everywhere, from saving money on the data center to more efficient servers and storage systems to being more ecologically aware in chip production. Environmental issues are certainly at the forefront of larger efforts within the IT industry."
Protecting the Secret Sauce
A fab like Intel's new one could have been built almost anywhere in the world that offered modern infrastructure, said IC Insights Vice President of Market Research Brian Matas. However, he suggested Intel's decision to build in the U.S. might be largely about protecting its technology.
Fab 32 is shielded by ultra-tight security controls.
"I think it's smart for Intel to build here," Matas told TechNewsWorld. "What they are doing here is protecting their intellectual property and that is essential for Intel. Keeping it in the U.S. gives them that advantage. It's not so much of a problem if they expand into Europe or Israel, but where I see them having potential problems is the possible moving of manufacturing plants into China."
Matas cited the existence of low-quality, Chinese attempts to clone everything from iPhones to the Nintendo Wii game console. "You've gotta be real careful," he said. "If I'm Intel, that's why I build in the United States or Europe."