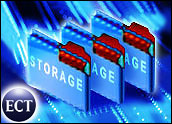 IBM has announced improved storage virtualization offerings for disk and tape, including a new product and enhancements to its Virtualization Engine TS7520 tape solution.
The goal in making the changes is to increase the efficiency of its storage virtualization products and bring cost savings to its customers, the Armonk, N.Y., computing giant said.
IBM, which has been in the virtualization business for more than 40 years, said it realizes today's companies want to be able to manage and store information in ways that are "better, cheaper and faster."
Storage virtualization — among other benefits — simplifies file management by presenting users with a "single consolidated view" of files stored on multiple file servers in company networks, IBM noted.
Virtually Bulletproof
IBM's new product is called "IBM System Storage N series Virtual File Manager" (VFM), a product that is being sold in both enterprise and "migration" editions.
"This file virtualization offering provides a comprehensive solution for managing unstructured file data across an enterprise," said the company in announcing the software. It said VFM supports the virtualization of file systems on Unix, Linux, Windows file servers and on its own N series unified storage solution for midrange to large enterprises.
VFM offers data management for server and storage consolidation, migration, remote office data management and disaster recovery, IBM said.
"This provides continuous user access to data, which is intended to ensure business continuity," said IBM. Users, it said, continue to have access to company data even in the event of a disaster or during periods of storage consolidation and data migration.
The starting price for the Enterprise Edition of System Storage N series Virtual File Manager will be US$2,000, said IBM. The Migration Edition is priced at $1,200.
A Booming Business
Storage virtualization is a fast-growing market, among the top 10 growth segments identified by IDC, analyst Ben Woo said. "What VFM products do is enable customers to address storage and files behind a single set of directories," Woo told TechNewsWorld. "File virtualization enables customers to do migrations and it simplifies file server environment overall."
VFM helps companies prevent potentially disastrous losses of data, Woo noted. "It makes management easier and helps in the migration of data from old file servers to new file servers by maintaining the integrity of data," he said. "Migrations are very risky. You have to plan them ahead and they can be very disruptive to users. When users come back on, there is always that chance somebody screwed up. But with VFM, migrations can occur without users even knowing. It's a lot less risky."
IBM's new products add to the company's "legacy of innovation" in the field of storage virtualization, said Charlie Andrews, IBM system storage product Marketing Director. Modern businesses "want information on demand," he said, and IBM "is the only vendor poised to offer this level of solution with storage virtualization, as well as disk, tape and services offerings."
Keeping Competitive
In addition to the new VFM product, IBM said it has improved its Virtualization Engine TS7520. The product now offers 750 GB disk drives in an effort to reduce overall storage costs. It can be scaled up, however, with its maximum capacity increased to 1.3 petabytes (a petabyte is 1,000 terabytes).
"In addition, the TS7520 will now support IBM's encryption capable LTO Gen 4 tape drives to provide higher capacity and improve data security," said the company. The improved TS7520 provides end-to-end tape virtualization, improved business continuity with enhanced backup and restore functions and allows for better information lifecycle management, said IBM. The enhanced TS7520 will cost $105,000 when it hits the market in early December.
IBM's efforts should help it compete with other big players in the storage industry, Woo said. "From a total storage perspective, based on IDC's 2006 vendor share figures, IBM rates marginally above HP in having market share of storage worldwide," said Woo. According to IDC, IBM had 20.9 percent of the world's disk storage business and HP owned 20.4 percent.
While he said IBM is "up there as one of top storage manufacturers in the world," Woo noted that the new efforts "certainly provide IBM with a comprehensive file management platform overall from the file services side and any improvement is going to provide an advantage to an organization."
Busy Bees on Storage
IBM's storage-related news doesn't end with storage virtualization. The company also introduced new and enhanced enterprise storage products, including a new release for its flagship System Storage DS8000 Turbo series and a new storage console.
The DS8000 Turbo enhancements include FlashCopy SE, described by IBM as a function that permits users to "make a space efficient snapshot copy of their data" and use only the amount of storage capacity needed to save data updates.
"This can lower costs by significantly reducing the disk capacity needed for the copy, thus allowing customers to use fewer drives, consume less power, and be more energy efficient while protecting their data," said IBM.
Among the other DS8000 Turbo tweaks are Dynamic Volume Expansion, a feature allowing easier, online, volume expansion, Adaptive Multi-stream Pre-fetching caching technology and IBM z/OS Global Mirror Multiple Reader which improves remote mirroring for IBM System z customers.
For the Biggest of the Big
"At one time, IBM owned like 80 percent of the storage segment. They were as dominant in storage as Apple is in MP3 players," Rob Enderle, principal analyst for The Enderle Group, told TechNewsWorld.
While EMC has "been taking some of that mindshare" in terms of storage management software, IBM is still a top dog in many regards, he said. "These latest announcements showcase where IBM is strongest and that's in the very large enterprise kinds of solutions," said Enderle. "VFM addresses companies that have a variety of platforms and need one particular storage solution. The other product is for really, really large storage facilities. Both of these are solutions are uniquely suited to a very large enterprise."