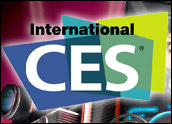 As of a few nights ago, it was still possible to get a room at a decent place on the Las Vegas strip at a bargain rate. That was a good sign for travelers but a bad sign for the Consumer Electronics Show — not to mention the city's hospitality industry. When everything falls into place, CES is supposed to fill hotels, casinos, restaurants, clubs and taxis to capacity.
It'll be easier to gauge the crowds on Thursday, when the show actually kicks into gear. As of Tuesday, the convention center was still a work in progress as construction crews and technicians hammered away at booths and displays. On Wednesday, the press folks get herded like cattle from one corporate song and dance to the next, and it all wraps up with a keynote from Microsoft CEO Steve Ballmer, who may literally dance.
Slim and Spendy
Computer maker Asus decided to hold its conference on Tuesday afternoon. It's debatable who exactly pioneered the so-called netbook style of laptop, but the Asus' Eee PC was definitely one of the first hits in the wave of tiny, low-cost computers coming to market over the last year.
Mobile is still high on the mind of Asus engineers, but the company looks like it's really trying to get away from the bare-bones, feature-free image often associated with netbooks. The upcoming S121 combines the small footprint of a netbook (11.7 inches) with the thinness of an ultralight (1 inch) — a laptop category that's usually pretty pricey.
The solid-state hard drive can be as expansive as 512 GB, compared to the 16-to-32-GB drives available on most other SSD netbooks. In addition, "it's actually around two times faster than other SSDs," said Asus Chairman Jonney Shih.
Microsoft's Dave Fester demoed a version of Windows Live Suite on the netbook. After demonstrating the suite's video chat capabilities, he demoed its VoIP app by punching in Shih's cell and calling him on the spot, while everyone in the room got the chance to jot down the chairman's phone number. You know, just in case.
Of course, the upside of a bare-bones and feature-free netbook is the price. The Eee PC owes no small part of its success to the fact that it's a very inexpensive way to get a PC that a) goes online and b) has a real keyboard. In the case of the S121, however, I can't name a laptop with a bigger SSD on the market, netbook or otherwise. This little laptop will have a big sticker price.
Touch-Sensitive Screens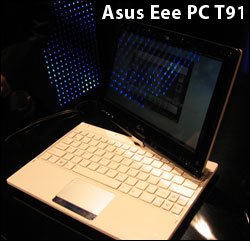 Next in the spotlight were two new models in Asus' N series of laptops, the N20 and the N50. The N20 looks like a regular small notebook, but its screen has full touch capabilities. The N50 takes the concept a step further by utilizing a glass touchpad that acts as a secondary touchscreen display. The smaller screen hosts widgets and app launchers that start up programs utilizing the full-sized screen.
The advantage, according to Asus, is that the user can keep smaller programs running constantly without using the full power of the computer, thus conserving battery life.
With the upcoming T91, Asus is taking the Eee PC into tablet territory. The 2-lb. netbook's 8.9-inch touch-sensitive screen swivels all the way around and can be folded back over the keyboard. It's also got built-in GPS and a TV tuner.
All in the Keyboard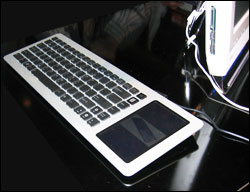 Packing its small laptops full of new features could move Asus out of its general low-price position, but Shih said costs are still a big factor in design.
"We actually intentionally have also set a very aggressive goal to drive [prices] further down — maybe more aggressive than you can imagine," he hinted.
Looking into the future, Asus previewed what it calls the "Eee Keyboard."
Shih put it succinctly: "It looks like a keyboard. It's actually a computer."
It's a fully functional PC with a touch-sensitive mini display on the far right side. Its monitor is your home TV — either wired up through one of various front-side ports or via a wireless connection that can handle a high-definition signal.
Folding Notebooks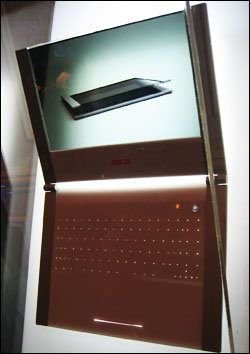 Getting even more conceptual, Asus showed a video of a laptop based on origami.
Multiple users, each with their own laptop, could basically "fold" their computers into each other's to share pretty much everything — files, battery power, user interface, desktop space. Who knows, possibly viruses as well.
When some people talk about "collaborative computing," what they mean is basically one person reading the screen over another person's shoulder.
I call that "hovering," and it's usually not a good thing.
There's no telling what the origami computer concept will actually look like if it ever surfaces in a consumer product.
For now, though, it looks like it beats having someone stand behind you while you type.