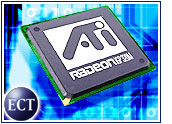 ATI kicked off the official transition to the faster PCI Express graphics-connection standard this week as it unveiled graphics chips aimed at breaking open the computing bottleneck that can be caused by existing technology, such as AGP and the older PCI format.
Markham, Ontario-based ATI touted its introduction of the Radeon X800, X600 and X300 Visual Processing Units (VPUs) as a "top-to-bottom family" of graphics cards that rely on what the company is calling "the industry's first" PCI Express graphics processors.
The announcement at the Computex silicon trade show in Taiwan highlights what could be the beginning of an industry-wide transition to the PCI Express standard, which delivers performance improvements over today's AGP and PCI interconnect standards. ATI rival Nvidia also is working on a bridge technology to bring PCI Express performance capabilities to its own graphics chips, while the industry is anticipating Intel's announcement of its own PCI Express technology in the next few weeks.
Graphics out of the Gate
Meta Group vice president Steve Kleynhans said that while PCI Express technology will be adopted throughout the various components that make up a computer, ATI's graphics chip is a logical place to start.
"This is the first wave of PCI Express products, but quite frankly, video cards are the most obvious, perhaps the only obvious place for PCI Express," Kleynhans told TechNewsWorld. "The vast majority of PCI Express add-ons will be graphics cards. Graphics is where there's been a bottleneck."
Users — particularly graphics-oriented ones, such as video gamers — are looking forward to the increased performance and speed of the PCI Express standard, but PC component makers, such as connector and socket producers, are not anxious for the transition, according to Kleynhans.
"They're loath to change anything because [of] its cost to them," he said, referring to the dilemma of what to do with existing manufacturing and products in a PC market that is already cost-constrained. For companies such as ATI and Nvidia, however, Kleynhans said there might be an opportunity to spark sales with the newer PCI Express technology.
Home to High End
ATI said its Radeon X300 card, the central processor for which is built using a 110-nanometer process from TSMC, brings DirectX 9 graphics architecture and capability to home or office computer use, doubling the performance of previous entry-level offerings from the company.
The X600, meantime, built with a TSMC low K, 130-nanometer process, delivers high speed and performance that was previously limited to high-end graphics chips, ATI said. The company called its X800 — built with the same process as the X600, but with built-in support for high-definition gaming — a solution for enthusiasts and power users.
"Our customers wanted native PCI Express for their systems, and we delivered it," said a statement from ATI's Rick Bergman, senior vice president and desktop general manager. "As original equipment manufacturers and system builders announce their new systems over the coming weeks, that will be apparent."
Technology Trial
Mercury Research president Dean McCarron told TechNewsWorld that the biggest challenge of the transition to PCI Express technology will be one of inventory and supply management. "This is such a big transition, it's an especially challenging task," he said.
McCarron added that while ATI and Nvidia have taken different technological approaches to the application of PCI Express, the winner will remain unclear until the products are actually in use in the marketplace.
Meta Group's Kleynhans said that although many in the PC manufacturing chain have little to gain by making the change to PCI Express now, they do not have much choice.
"For a lot of the little guys, they don't see a lot of business benefit in this, but they have to do it because that's where the industry is going," he said.