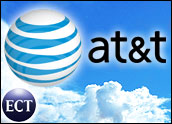 AT&T and MobiTV are now offering a mobile television service to broadband users. Called AT&T Broadband TV, it is available to subscribers of any broadband service — not just AT&T's high speed Internet services. AT&T and MobiTV have already partnered to offer MobiTV's content to users of AT&T's WiFi hot spots; this new offering is an expansion of that agreement, the companies said.
Currently, AT&T Broadband TV is offering 20 channels of live and made-for-broadband TV content. Channels available include Bloomberg, Oxygen, History Channel, Comedy Time, Toonworld, Maxx Sports and the Weather Channel. An additional 20 channels will be added to this lineup within the next 30 to 60 days.
The subscription fee for the service is US$19.99 per month.
Television Service Troika
AT&T, as well as other major and regional telcos, have for several years been rapidly expanding the range of products and services offered in order to capture as large a customer base as possible. Bundling cable, TV and high-speed Internet access has become a routine offering among providers; now, to gain incremental customer share, telcos are delving into content and other value-added services.
This is AT&T's first TV service offered on broadband, Shahid Butt, vice president of broadband entertainment at AT&T, told TechNewsWorld. The new product and related content fill a gap in the troika of customer channels AT&T wants to target among television viewers: the mobile phone, the television in the home and now — through its partnership with MobiTV — the personal computer.
"Television is officially available on the PC now and will reach television fans in their home, office,college dorm, at the airport or anywhere they happen to be," said Phillip Alvelda, CEO, chairman and co-founder of MobiTV. "MobiTV and AT&T will deliver premium quality content seamlessly across all broadband networks."
Other Endeavors
Two other service providers with which AT&T partners to provide content or gain access to markets are EchoStar and Vongo Wireless. The company is also beginning to provide TV content directly via its U-verse TV service, Butt said — an offering that competes directly with satellite and cable providers. U-verse is currently available in the San Antonio, Texas, market. Plans call for a rollout in additional markets over the near- and mid-term.
AT&T Homezone is another new service AT&T recently introduced that offers value-added content through a new channel. An Internet-based video service with satellite TV programming, AT&T Homezone integrates AT&T Yahoo High Speed Internet, AT&T Dish Network satellite television and AT&T Home Networking services via a single device.
It also features digital video recording, movies on demand, photo- and music-sharing and storage.