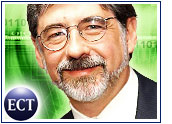 Lucent's Mobility Solutions Group has been working to meet the needs of the world's mobile service providers, including traditional wireless carriers and emerging third-generation (3G) mobile operators. The group believes that 3G spread-spectrum technology is the ideal way to address the future of wireless technology and help mobile operators create a sustainable 3G business.
In spread-spectrum networks, signals are distributed over a broad area within the available frequency band, providing tremendous capacity at high quality while minimizing interference. By its nature, spread-spectrum technology also is more secure than earlier technologies, which is a benefit to mobile operators that face a growing array of security and privacy challenges.
When it comes to 3G, Lucent remains a leader in deploying spread-spectrum mobile networks. The company has deployed more than 90,000 spread-spectrum base stations and has enabled more than 50,000 base stations in networks worldwide to support 3G CDMA2000 services, far more than any other equipment vendor. Lucent also has deployed commercial 3G networks for more than 25 mobile operators in North and South America, Europe, Asia and the Australia and New Zealand region.
Paul Mankiewich is chief architect and chief technical officer for Lucent's Mobility Solutions Group and senior vice president of Networking and Services Research for Bell Labs. To find out what's next for Lucent and for the mobile industry, TechNewsWorld turned to Mankiewich for an exclusive interview.
TechNewsWorld: Can you tell us a little about what you do at Lucent?
Paul Mankiewich: As CTO of Lucent's Mobility Solutions Group, my team is responsible for developing the network vision and architecture for Lucent's Mobility business and serves as the key technical interface to our mobile operator customers. I also supervise a team that works with wireless standards bodies worldwide; Lucent has long had a leading role in defining global standards for mobile networking technologies.
As a senior vice president of Bell Labs, I am responsible for overseeing the networking and services research labs. The mission of the Networking Research Laboratory is to provide technological breakthroughs and innovations that lead to superior next-generation IP-based wireless and data networking systems for telecommunications service providers. This work involves creating new algorithms, protocols, network architectures and building prototype systems and network elements.
The Converged Networks and Services Research Center is developing innovative technologies and systems to differentiate Lucent's switching products and the services they enable. A key focus of the center is to develop new architectures, call processors, media servers, gateways and personalization technologies to provide the simple creation and delivery of call management functions and enhanced services.
My dual role in the Mobility business and Bell Labs is beneficial because it gives me the opportunity to drive the innovation of Bell Labs research into the development of products that will continue to differentiate Lucent's Mobility business. It also allows me to ensure that the research we're doing in these labs aligns with the real-world needs of our mobility customers.
TNW: How has the Lucent Mobility Solutions Group evolved over the past several years?
Mankiewich: Over the past several years, our mobility business has been aligned to focus on key strategic areas, which are now proving themselves out in the marketplace. For example, we chose to focus our development work on spread-spectrum CDMA technology, which is the underlying technology of the two dominant 3G standards — W-CDMA and CDMA2000. Now we are seeing that investment pay off, as mobile operators around the world are deploying 3G CDMA2000 and W-CDMA networks.
We also placed an emphasis on mobile high-speed data. With 3G technology, mobile operators increase their voice capacity and also — for the first time — have the capability to offer truly high-speed mobile data services. We made sure we had an end-to-end offer in place to help mobile operators deliver mobile high-speed data services to their subscribers. And our efforts went beyond providing the technology that makes these services possible. We conducted primary market research to identify the applications and the most likely segments to sign up for mobile high-speed data services.
We developed marketing programs to help our customers sell to enterprises — the segment we found that would be the early adopters of mobile high-speed data. We worked with individual enterprises on market pilots and trials of the technology to help our customers better understand what it takes to integrate 3G and corporate applications, firewalls and security. And we worked with device manufacturers to make sure end-user products — such as wireless PC modem cards — were available and well tested to support mobile high-speed data services.
TNW: The Mobility group has a reputation for pushing toward convergence. From your perspective, why is convergence important?
Mankiewich: We place a strategic emphasis on convergence. As more and more data traffic begins to be carried on mobile networks, which have been mostly used for voice, we see a need to help our mobile operator customers marry data and voice networks to reduce their overall cost of operations and increase network efficiency. A transition from circuit-switched networks to packet- or IP-based networks makes this possible. An all-IP network enables both VoIP and data services. These IP networks can support any wireline or wireless access technology.
With the transition to all-IP networks, there is an opportunity for mobile operators to become the primary provider of all of a consumer's voice, data and multimedia services, taking advantage of the convergence of multiple network types. We've started calling this a "grand slam" services bundle opportunity for mobile operators — because they are the only service providers today that can offer subscribers voice, data and multimedia services along with the added convenience of mobility.
TNW: Why can't a mobile operator's IP network carry all of the traffic generated by a user's mobile phone, home phone, home computer or any other communications device?
Mankiewich: To make this happen, smart devices will be available that know when a user is at home (using his or her WiFi network) or on the move (using the mobile network). Mobile operators can help deliver the service capability with smart devices because a mobile network is the only type of network today that can provide information regarding a person's whereabouts, specifically their location (where a user is at a given point in time) and presence (whether a user is on or off a network), and also the type of device they are using at any given time.
We are focused on providing mobile operators a seamless end-to-end network solution to help them become a converged network services provider — from the infrastructure equipment all the way to the device a consumer utilizes. As part of this effort, in November 2003, we unveiled our Accelerate VoIP portfolio of solutions — a cost-effective way for our customers to evolve their networks to provide IP-based voice, data and multimedia services.
TNW: Lucent is a driver in the 3G space, so can you say a little about what's happening in that space in the United States and abroad?
Mankiewich: Lucent is definitely leading in the 3G space, as we've deployed more than 25 commercial 3G networks and more than 50,000 3G base stations worldwide. 3G technology is ushering in a new era of mobile communications, as it enables the introduction of mobile high-speed data services on networks that have been mostly used for voice services.
The United States is clearly one of the leaders in this new era of mobile 3G communications. Here in the U.S., commercial nationwide CDMA2000 1X networks are available from Verizon Wireless and Sprint PCS. Lucent was a major supplier for both of these networks. AT&T Wireless also has deployed EDGE technology nationwide. We are also working with AT&T Wireless to trial W-CDMA/UMTS services in the Miami area. And, we helped Verizon Wireless deploy a commercial CDMA2000 1xEV-DO network in Washington, D.C., which provides average data speeds of 300 to 500 Kbps — comparable to the fastest wireline connections. Verizon Wireless has recently announced plans to deploy a national 1xEV-DO network.
TNW: And on the international side?
Mankiewich: Internationally, Korea is clearly leading the way in 3G, having deployed commercial CDMA2000 1X and 1xEV-DO networks that are generating substantial revenue with millions of subscribers. We are helping KTF in Korea expand their 1xEV-DO network. Japan is also advanced, with commercial CDMA2000 1X and W-CDMA networks deployed by KDDI and NTT DoCoMo, respectively. KDDI has introduced CDMA2000 1xEV-DO services. In other countries like India, we helped Reliance build its 3G network, which is now one of the fastest-growing networks in the world.
In Europe, we are seeing limited deployments of UMTS/W-CDMA. For example, Hutchinson has a commercial UMTS network but very few UMTS subscribers. The mobile operators in Europe seem to be taking a wait-and-see approach with regard to rolling out UMTS, but we believe the first operators to deploy the technology and target enterprises with mobile high-speed data services can begin generating significant revenues today.
Because of 3G's mass deployment, we are beginning to witness the transition from circuit-switched networks to packet- or IP-based networks, which I mentioned earlier. An all-IP network enables operators to start rolling out VoIP services that generate new, profitable revenue.
TNW: What about Lucent's technology right now? What's the most exciting thing happening in your group in the year ahead?
Mankiewich: There are several exciting technology developments my team is working on. These include enhancements to CDMA2000 1xEV-DO, 1xEV-DV and UMTS/W-CDMA — both high-speed downlink packet access (HSDPA) and enhanced uplink data channel (EUDCH). These enhancements will increase the uplink (the speed at which data can be sent from a user back to the network) and downlink (the speed at which data can be delivered to users) speeds on these networks. Uplink speeds are becoming increasingly important because people are creating content on their devices and sending it back through the network. Think of pictures and video content that are now being sent over 3G networks. Also, these enhancements will make efficient and high-quality VoIP services over mobile technologies a reality. The world is moving rapidly to VoIP, and wireless should lead the way.
TNW: Anything else you're working on?
Mankiewich: We are also working on other technologies than can further increase the data rates on these 3G networks. For example, Bell Labs has developed an innovation called Bell Labs Layered Space/Time (BLAST), which is a multiple-input multiple-output (MIMO) technology that uses multiple antennas at the base station to send and receive wireless signals to mobile devices with multiple antennas. BLAST can greatly increase capacity, coverage and the speed at which data is transmitted.
We also plan to take one of our Bell Labs innovations, called OCELOT, another step further. OCELOT is a network design and planning tool developed by Bell Labs that helps mobile operators optimize their networks — for example, tilting antennas a certain way — helping increase network coverage and capacity. We are currently working on embedding OCELOT functionality into the network itself, making dynamic network optimization possible. A "smart" software enhancement, if you will, which would enable networks to intelligently optimize themselves in real-time. This would result in significant efficiency, capacity and coverage gains for mobile operators.
You also can expect to see new products and solutions introduced as part of our Accelerate VoIP portfolio. Enhancements to Lucent's Softswitch, for example, were made so that the product supports both wireless and wireline networks and provides a single platform for all applications. For customers with our existing switching products, we will be introducing solutions that will protect the investments they have made and help them gracefully migrate to IP networks.
TNW: At this point, what would you say are the biggest challenges for Lucent? For example, would it be wireless interoperability, your competitors' technology or even wireless security?
Mankiewich: I believe our biggest challenge is how fast the market for mobile high-speed data services and VoIP services will become widespread. We are seeing some traction in the marketplace already, and we do expect both to take off. We have a very solid technology vision through 2010, but the question is, how fast does the technology evolve? And when do certain technologies become deployed?
TNW: With all that is happening in the computer world in terms of viruses wreaking massive havoc across the Internet and — at the same time — with mobile devices becoming increasingly sophisticated to the point where the most advanced phones can be better characterized as computers, where do you see the wireless world headed in terms of security?
Mankiewich: When speaking about wireless security, we need to look at two areas — WiFi (802.11) and 3G. In the 802.11 WiFi space, security was not considered at the very beginning when this standard was being developed because the technology was originally designed for use in the home. Now, service providers want to offer services using WiFi networks, and the service needs to be reliable and secure. So the industry is now going back to address security issues, which were not addressed initially when the standard was developed. And I'm confident they will be resolved.
On the 3G side, security was rigorously addressed from day one — when the standards were being put together. As an industry, we made it a priority from the outset. And for this reason, I'm not worried about any major security issue related to 3G.
TNW: And what about Lucent's role in security?
Mankiewich: Lucent has a large group dedicated to security. We have groups working on fundamental algorithms for encryption and encryption more generally. Much of our Bell Labs research work is also focused on security. Bell Labs has long been a leader in network security — whether it's defining standards or building firewalls that are impervious to attack — and networks are safer today thanks to our pioneering efforts. Our researchers are intensely focused on enabling end-to-end security of networks, and we're developing the algorithms, protocols, best practices and services to ensure the security and reliability of networks.
One timely example is Bell Labs' Network Security Model, which recently became the basis for the International Telecommunications Union's (ITU) newest global security standard — Recommendation X.805. Recommendation X.805 can be used by network operators and individuals to detect, predict and correct security vulnerabilities across wireless, optical and wire-line voice, data and converged networks before hackers or crackers can exploit them.
TNW: In your opinion, what's the single most important technology of the 20th century?
Mankiewich: There are two — the transistor, invented by Bell Labs, and the integrated circuit (or silicon), invented by Texas Instruments. These two technologies followed a Moore's Law-type curve, and without them and the pace of their development, the advanced mobile devices and computers of today could not exist. Moore's Law in silicon will probably run out at a scale of a bit below 50 nanometers. Bell Labs is already looking at new ways to develop higher-density circuits — an area called nanotechnology research.
Bell Labs is already a well-established leader in nanotechnology. The New Jersey Nanotechnology Consortium, located at our headquarters in Murray Hill, has some of the world's most sophisticated equipment for the fabrication of nanotechnology devices and materials. The work being done here is focused on commercialization, with several contracts already in place with customers in fields such as defense, biotech, aerospace and more.
TNW: Do you think there is a parallel to Moore's Law in the telecommunications industry — or in wireless technology?
Mankiewich: In technology, we depend on Moore's Law. It has treated us well in the technologies available in the modems that enable us to deliver higher data rates and the processing power available to mobile devices. Mobile devices are now beginning to rival laptops with their processing power for high-speed communications and applications. But there are some who would argue that the pace of technology innovation has actually accelerated to the point where Moore's Law can't keep up.
Even though there has been a lull in the telecom industry, the amount of information on the Internet continues to grow. We are seeing this increase exceeding the rate of Moore's Law, which means we will need to get more and more creative in how we design networks. We are moving more and more functionality to the edge of the network, and in the core of the network we are developing very novel combinations of electronic and optical processing. Also, the need for security, as I mentioned earlier, has greatly increased our need for processing power embedded all over the network.
TNW: What will the telecommunications market look like in 10 years?
Mankiewich: We will see the full integration and convergence of all access technologies, meaning end-users will be provided services across multiple network types in a seamless way. A consumer won't know if they're on a WiFi or 3G network, for example, and will receive continuous service. Sets of services will be delivered based on where a user is located, and presence across the whole network will be intelligent and intuitive relative to the user's needs. A user will have one mobile phone or device to use at the home, office and at work. When users are at home, they will be charged on their personal bill, if they're making a personal call, and they will have access to a set of services designated as home services. When they get to the office, the user's device will automatically load the office phone directory onto the phone, for example, and all calls will automatically be charged to the company bill.
We also believe that managing your personal information and preferences will be the key to making these ubiquitous services useful while preventing them from becoming too intrusive. Recently, we introduced Bell Labs' Privacy-Conscious Personalization (PCP) framework, which lets users specify what location information is shared, when, with whom, how and under what circumstances. It relies on user preferences to intelligently infer context — such as working or shopping — and then determines with whom location information should be shared. We've always believed people should be able to communicate on their own terms and wishes, and we are making sure the next generation of networks reflects this conviction.
You also can expect the emergence of embedded-sensory networks that interact with each other. Machines will be sharing data wirelessly with other machines, and we, as consumers, won't even know it. As you're approaching your home, your mobile device will wirelessly interact with your home's embedded-sensory network and let it know you're a block away, and your home's lights will automatically be turned on for you. At home, your washing machine will be able to call its manufacturer when it is malfunctioning, and the manufacturer will be able to run diagnostics remotely. In fact, the majority of network traffic might be machine-to-machine communication — and I expect this machine-to-machine communication to become more pervasive than normal, everyday phone conversations driving today's network traffic.
TNW: How about 20 years from now? What will the telecommunications industry look like?
Mankiewich: In 20 years, it's hard to say or even imagine. Mobile data speeds will have increased exponentially, so one possible thing we might see is the virtual reality concept really taking off. For example, when a mother is on the road traveling for business and wants to speak with her children back home or even tuck them into bed at night, an image of the mother could appear to the child at home, and the two people could have a "virtual reality" conversation over the mobile network. Or if a student is surfing the Internet and looking for information on the Parthenon ruins in Greece, they can actually choose to embed themselves in a "virtual reality tour" and check out the temple in 450 B.C. and experience it with the people of that time.
TNW: Where will Lucent be in that future?
Mankiewich: With Bell Labs as our innovations engine, Lucent will continuously be at the forefront. Throughout all of the turmoil in the telecom industry, we believe we have been able to keep Bell Labs very strong and diverse. Our ability to address a very diverse set of topics and technologies enables us to be ready for any turn the telecom industry could take. We will continue to deliver the equipment, software and services that will support the new sets of mobile services I mentioned earlier and network convergence. Bell Labs will continue to be the leading source of new communications technologies.