Google will be introducing its Nexus One smartphone device next Tuesday, it appears certain. Not that Google has said as much: All the the company has announced is that it will hold an "Android related" press conference on Jan. 5, a day identified in prior rumor accounts as the Google phone's launch date.
The expectation of a Nexus One announcement has been bolstered by screenshots containing pricing information and other details published by Gizmodo.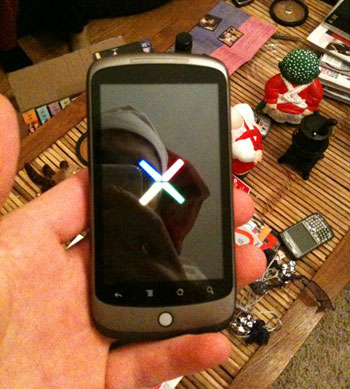 This photo of Google's Nexus One Android smartphone was posted online by
Cory O'Brien
earlier this month.
If the leaked documents are accurate, Google plans to sell the HTC-manufactured phone directly — unlocked and unsubsidized — for US$530. It will also be available through T-Mobile for $180 with a two-year contract.
Just one rate plan — about $80 per month — reportedly will be available to customers with one line. Existing customers who have family plans, Flexpay, SmartAccess or KidConnect accounts will be required to buy the phone unlocked and unsubsidized for $530, according to Gizmodo.
Google will sell the phone at google.com/phone, starting at 9:00 a.m. on Tuesday, reportedTmoNews, the unofficial T-Mobile blog.
Google did not respond to TechNewsWorld's request for comment by press time.
Jan. 5 happens to be two days before the start of the Consumer Electronics Show, the tech industry's major trade and conference expo — a good time to release a blockbuster product, which the Nexus One is likely to be. The widespread consensus is that it will garner major buzz at the event.
It Feels Right
Everything about the announcement — the timing of it, prior leaks about the strategy, and the expected Tuesday preview — makes sense.
"They are being smart announcing it before CES," Scott Testa, a business professor at Cabrini College, told TechNewsWorld.
There will almost certainly be several mobile announcements of comparable excitement value at the conference, he suggested. "The future of computing is mobile — the industry knows that and is moving towards it."
Former Partners?
The only surprise left is how — or whether — Google intends to soothe its Android partners' bruised feelings, said Testa. "This is something that could easily cause a rift with partners that took a chance on Android, invested in it, only to see Google compete with them. If I am Motorola or T-Mobile, I would not be happy right now at all."
Google appears to have no shame, however, he remarked. "If anything, this shows it is willing to go aggressively after the markets it wants."
Still, it will probably want to make some kind of overture to keep its partners happy, he said.
More Than One
With so much about its Nexus One plans already revealed, speculation in some quarters is turning to what else Google may have up its sleeve for Jan. 5.
"There is certain to be more than one announcement," Greg Sterling, principal of Sterling Market Intelligence, told TechNewsWorld.
Changes in the Android OS, for example, are one possibility. How many handset makers Google is working with — or will be working with — is another, he said. It is possible Google may be unveiling more than one device — or perhaps one device with a road map for additional products.
What appears certain is that Google will be unveiling its own phone.
"The handset has been widely photographed and written about," noted Sterling. "The secrecy behind it can't go on much longer or it just won't be news anymore, and Google will have lost the momentum."