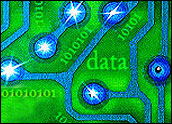 Big irony.
So old-school uncool, the mainframe computer — the workhorse of the IT world running the majority of today's global business transactions, the mission-critical platform of choice for virtually every member of the Global 2000 as well as local, state and federal governments — is said to be going the way of other '60s artifacts like the vinyl LP.
Distributed client/server computing looks to be replacing the mainframe as the core of business. Companies are migrating workloads off their mainframes because mainframe technologies, ranging from channel architectures to virtualization (hardware emulation), have percolated down to distributed systems and have begun to mature, offering traditional mainframe benefits like availability, scalability and server utilization. Although the mainframe's total cost of ownership (TCO) continues to improve, the cost of software continues to be a major burden. A MediaDev study reports that 44 percent of respondents claim that the mainframe costs are too high.
Moreover, the rise of servers has eaten into mainframe sales. Worldwide server revenue increased 3.8 percent to US$54.8 billion last year, according to Stamford, Conn.-based Gartner, while mainframe sales declined 12 percent to $5.98 billion.
IBM dominates the mainframe market, but mainframes, once IBM's core product and long a reliable source of revenue from the software and services required to run them, now account for a smaller slice of IBM's sales as the company moves to higher-profit technology services and software.
IBM, based in Armonk, N.Y., reported that its mainframe revenue fell 15 percent in the fourth quarter of 2007 (reportedly because customers waited for the new model z10 system before upgrading). IBM reported that its overall revenue from hardware fell 3 percent in 2007 to $21.3 billion, accounting for 22 percent of IBM's total revenue of $98.8 billion.
Room-Sized Workstations
While there is no firm definition of a mainframe, the prevailing image conjures a room-filling computing behemoth with giant rotating tape reels and lots of flashing lights — the "big iron" of popular lore.
"Mainframe" is an industry term for a large computer, typically manufactured by a large company like IBM for the commercial applications of Fortune 1,000 businesses and other large-scale computing purposes.
There are two typical mainframe customer categories. The first is the organization that has internally developed a specialized application that assists in defining some critical element of their business. The second category involves organizations adopting a complete mainframe-based solution developed by the mainframe vendor or an independent software vendor (ISV) like CA, BEA Systems, SAP or Oracle.
The vast majority of large legacy (pre-client/server) mainframes currently deployed are IBM or IBM plug-compatible systems running MVS (now z/OS), DOS, VSE and os/390. Typical mainframes from IBM weigh between one and two tons and have from 128 MB to 4 GB of memory and hundreds of gigabytes of disk storage. Their primary use is to conduct very fast transactions with a database and to be split into several independent partitions, each with its own operating system.
Not Giving Up
Of course, IBM isn't sitting idly by watching its mainframe cash cow dry up. Big Blue is also the world's largest server computer maker, with 31.1 percent of global server revenue in 2007, followed by HP with 28.3 percent, according to Gartner.
In the face of these realities, can the mainframe survive as a distinct platform, or will it simply be absorbed into the world of distributed computing?
Bet on the mainframe, advises Bill Maclean, VP of ClearPath and AB Suite at Unisys Systems and Technology.
"Clients who do not look at the total cost of ownership will not understand the true economics of mainframes versus alternatives," Maclean told TechNewsWorld. "This comment extends to off-the-shelf application solutions that appear to be very cost-effective, until the client recognizes that they must change their business to fit the application rather than adapt an application to the way in which they want to do business."
"The mainframe's ability to survive is only as good as its ability to innovate and compete for these new computing workloads of the future," Brad Day, vice president and principal analyst at Forrester Research, told TechNewsWorld.
Mainframe Mainstream
IBM and Unisys, based in the United States and selling globally, are basically all that remain of the traditional mainframe vendors from the 1960s. Today, Japanese vendors like Hitachi sell mainly to the Japanese market, and the European traditional mainframe vendors sell mainly to Europe (though Fujitsu Siemens Computers is a Japanese and German IT vendor selling consumer and business systems in the EMEA markets).
With systems like its zSeries portfolio, IBM dominates the mainframe market worldwide at well over 85 percent of market share, according to Forrester Research of Cambridge, Mass. Unisys manufactures ClearPath mainframes, based on earlier Sperry and Burroughs product lines. Fujitsu (which acquired Amdahl in 1997) markets the Nova systems — rebranded Unisys ES7000s. Hitachi co-developed the zSeries 800 with IBM to share expenses. Hewlett-Packard sells its unique NonStop systems, which it acquired with Tandem Computers, and DPS mainframes from Groupe Bull (which acquired Honeywell in 1991) are available in Europe.
In Gartner's Dec. 2007 "End-of-Year Scorecard for Europe's Mainframe Players," the research firm reported that the mainframe EMEA (Europe, Middle East and Africa) market has four key players: IBM, Fujitsu Siemens Computers, Group Bull and Unisys. According to the report, the EMEA mainframe market is worth more than $2 billion a year.
Battle of the Behemoths
Not content to leave IBM comfortable in its mainframe near-monopoly, companies like Microsoft and Intel are aggressively attacking Big Blue. Sunnyvale, Calif.-based Platform Solutions (PSI) is a proxy for Microsoft as it goes after IBM. PSI makes a system that allows IBM mainframe operating systems to run on hardware based on Intel's Itanium 64-bit microprocessors. PSI's computers consolidate z/OS, Windows and Linux operating systems into a single operating environment based on Itanium 2 processor technology.
In November 2007, PSI raised more than $37 million in fresh capital from a group of investors that included Microsoft. PSI also signed a joint sales agreement with Microsoft to gain access to the large data centers of companies Microsoft already serves.
PSI is going after the lower end of the IBM mainframe market, valued in the billions of dollars, and it plans to undercut the dominant IBM product on price. As a result, PSI and IBM are currently in federal court fighting a lawsuit over licensing and antitrust issues.
Microsoft is also challenging Big Blue through two groups — the Itanium Solutions Alliance (ISA) and the Mainframe Migration Alliance (MMA). ISA members include founders Bull, Fujitsu, Fujitsu Siemens, Hitachi, HP, Intel, NEC, SGI and Unisys; and charter members BEA, Microsoft, Novell, Oracle, Red Hat, SAP, SAS and Sybase. Microsoft, an ISA charter member, is also the key driving force behind the MMA, along with companies like Accenture, EDS, Fujitsu Computer Systems, Infosys Technologies, Intel Corporation. The MMA advocates moving mainframe workloads onto the Microsoft platform.
Reliable, Available, Serviceable
The term "Reliability, Availability and Serviceability" (RAS) is a defining characteristic of mainframe computers.
"Mainframes are defined by the strategic business value delivered to the organization in supporting revenue and customer satisfaction," said Unisys' Maclean. "They enable integrity and security of critical business data and provide best-in-class economics for large-scale workloads supporting the core business processes."
But legacy applications still functioning well into the Internet era often present IT managers with unique sets of problems. Jack Burke is a business systems analyst with the San Bernardino County Human Services System (HSS). A bottleneck had resulted from the use of handwritten timesheets turned in by workers in the HSS's Department of Aging and Adult Services. Payment is made bi-weekly through a legacy system called the "Case Management Information and Payrolling System" (CMIPS), supported by ancient Amdahl mainframes. Burke could hardly believe his eyes when he first saw the operation in action: remote dumb terminals outputting volumes of important documents to a noisy, obsolete dot matrix printer.
"It was like walking into a computer museum, only this is a 21st century working office environment," Burke told TechNewsWorld.
To overcome the problem of the mainframe's arcane print output in an affordable, effective manner, Burke turned to Capella Technologies, Anaheim, Calif., for the solution: an HP LaserJet printer and Capella's FormPort Server Software, which allows for a seamless migration from preprinted dot matrix output to quality laser output without having to change the original application.
"We had a need to OCR the printed timecard output," Burke explained. "Dot-matrix print sent the OCR engine into flights of vector-based fancy. But capturing that print output and redirecting it to an IBM 4200TN Duplex printer allowed the OCR engine to purr — and our antacid consumption to drop."