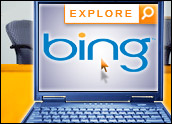 Taking on one of Google's most popular Web applications, Microsoft introduced a beta for Bing Maps that incorporates improved imagery, 3-D photographs and street views using tools made possible by its Silverlight technology.
The Streetside feature puts users on street level, letting them walk around to find "that good parking lot," for example, "or figure out exactly where the door to the club is located," according to a blog post by Satya Nadella, Microsoft's senior VP for online services.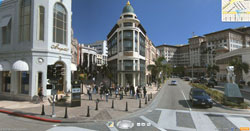 The Bing Maps Streetside view features 360-degree ground-level zooming and 3D imagery, with hovering street labels, a compass, and an overview map to track direction and movement.
(click image to enlarge)
Microsoft Research, Live Labs and the core maps team collaborated to build Streetside, she wrote, describing it as "an actual physical environment on top of which we can provide an experience that connects to information from across the Web."
App Gallery Under Construction
A development platform that is currently only in limited release lets users create "mash-ins" on top of Streetside.
An Application Gallery connects Streetside with Twitter and other services, Nadella said.
Some of the apps included in the Gallery:
An app to see tweets on the map from their originating location. Users can get real-time updates about events, breaking news, or just tweets from friends about the quality of coffee at their favorite coffeehouse, for example.
Local Lens, a Microsoft app that indexes local blogs from around the U.S. and, using the clues in the posts, tries to place them physically on a map. "It's an entirely new way to consume local crowdsourced information," according to Nardella.
What's Nearby, an app that shows users what is close to an address they have searched for — such as places to sync up a computer before a meeting. This app automatically searches for nearby amenities and delivers the search results sorted into categories.
Microsoft has also peppered Bing Maps with Photosynths (3-D photos) generated by the community. A user can search for the "Metropolitan Museum of Art in New York City," Nardella explained, and then enable Photosynths by clicking on the orange arrow on the bottom of the left pane. Photos of Met exhibits will then appear on the screen, and users are invited to "dive in" for close-up views.
The beta is very limited in its content and functionality at the moment. Streetside views are available only in certain areas, and there's just a smattering of Photosynths. A test search for tweets by location showed only a handful of tweets in a D.C. suburb.
Microsoft was unable to arrange an interview for TechNewsWorld in time for publication.
Taking on Google
Still, the beta is a good foil for Google Maps, which is very important to the search engine's usability, Ken Saunders, president of Search Engine Experts, told TechNewsWorld.
"Local search and local ads are a critical aspect of a good search engine optimization effort," he said, and how well the search engines execute on this will continue to be competitive differentiators.
Future Functionality
These developments lay the groundwork for apps that use augmented reality, John C. Havens, VP of social media at Porter Novelli, told TechNewsWorld. Being able to overlay social media data would mean a user, holding up a mobile phone, could actually see floating bubbles or widgets. From there, the possibilities are endless.
"Augmented reality is going to be a very powerful tool," Havens said. "Right now, Yelp has a tool called 'Monocle' — a user holds up a phone using the app and pans it from left to right. Let's say you are in San Francisco and want to find a coffee shop. You start panning the phone around, and you can see the icons for coffee shops, along with consumers' comments about each shop."
Such apps will have significant ramifications for commerce when they go mainstream, he added. "Stores will be able to tweet, for example, about products and services they are offering passerbys."