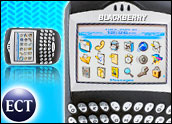 On Monday, some BlackBerry users experienced their second outage is less than a year. For three hours, many — but not all — users were unable to access their e-mail accounts using their handhelds.
Exactly what caused the system failure is still unclear: Waterloo, Ont.-based Research In Motion said it is looking into the problem and will provide more information once it is clear what happened.
The lack of communication has dismayed some dedicated BlackBerry users.
Ignorance Is Bliss?
"I was traveling Monday afternoon, brokering an important interview between a client and journalist, when the disruption occurred," recounted Dan Beeson, a publicist based in Atlanta.
"Needless to say, the interview crashed shortly after my service did," he told TechNewsWorld.
Joshua Estrin, CEO of the Lupus Foundation of America, found himself operating without access to e-mail just days away from a million-dollar gala at the famed Mar-A-Lago Club for the organization's donors.
"My job is mobile, and the most frustrating issue is the lack of feedback," Estrin told TechNewsWorld. "What do I tell someone who is ill regarding medical treatment inquiries or a donor regarding funds they have invested for our mission?"
Not all BlackBerry users were affected by the outage. Marc Lumpkin, president of Denver-based Altitude Public Relations, a firm specializing in high-tech clients, heavily relies on his BlackBerry. He was relieved to find all e-mails accounted for.
"Most individuals we've spoken with did not realize there was a problem with their service until they received delayed messages," John Corcoran, a wireless expert with retailer Wireless Toy told TechNewsWorld.
Scant Information
Still, RIM has become notorious for providing scant information to customers when interruptions in service occurred — whether on a national or local scale.
"I have spoken to BlackBerry hundreds of times … and as a self-proclaimed 'techie,' I often seem to know more than they do," Estrin said.
Despite the fact that it has released few details about the causes of this latest incident, BlackBerry in general appears to be getting better at providing information to its customers.
When the BlackBerry service went dark last year, a full day elapsed before customers received any notification, said Ahmed Datoo, vice president of marketing for Zenprise, a software provider that monitors BlackBerry servers for outages.
"I definitely do think they are getting better in this respect, although improvement can always be made," Datoo told TechNewsWorld.
Outage … and Outrage
For those customers wondering exactly what happened, Datoo provided the following sequence of events:
Basically, there are two paths — or IP addresses — to connect to the RIM network in North America. According to Zenprise software diagnostic tests, one IP address wasn't allowing access.
That's why users going through the working IP address experienced little to no service interruption and why some organizations experienced intermittent e-mail activity — they were switching between the two IP addresses.
Whether that explanation is enough to satisfy BlackBerry users depends on who is asked.
Beeson has this advice for RIM: "Get it together, or we 'crackberry' types will find another handheld provider."
Corcoran is a little more sanguine about the company and its communications: "Historically, BlackBerry users have been part of an exclusive, tech-savvy club. The knowledge they hold requires RIM to be upfront with them, and to date they have done a satisfactory job.
"Because of how solid RIM has been historically — I myself carry a BlackBerry — overall, our customers have been content with the communication they have received," he remarked.