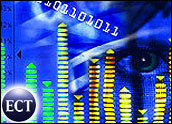 Part 1 of this series explores the technologies behind analyzing customer behaviors. Part 2 looks into the tools of business intelligence and Web analytics.
Business "intuition," popular in the days of pen, ink and paper, was the first "BI" — keen and quick insight rooted in trading experience and utilizing heightened observation with direct perception of commercial reality, all aided by strong inferences and at least some minimal amount of basic information.
In the 1970s, information technology changed business intuition into the management information system (MIS). In the 1980s, it became the decision support system (DSS) and the executive information system (EIS).
In the 1990s, it took on its current appellation as business intelligence (BI) — evaluated conclusions drawn from information electronically gathered about an organization and pertaining to its history, current status or future projections.
BI is a broad category of applications and technologies for gathering, storing, analyzing and providing access to data to assist enterprise users. BI applications involve the activities of data warehouses, decision support systems, enterprise master data management solutions, query and reporting, online analytical processing (OLAP), statistical analysis, forecasting and data mining.
"Technically, the analytics industry is clearly moving to multidimensional analysis capability without rigid data hierarchies," said Ching Wan, founder and CTO of PivotLink. "The hallmarks of evolving BI solutions are columnar data, federated queries, native data storage and ETL (extract, transform, load) light."
The most advanced systems must be accessible and useful, insisted Ching. Visualization, hierarchal administration and report distribution are provided at the user level, reducing the burden on IT.
"And this is accomplished by leveraging native schema and content with limited translation, evolved data compaction, federated query and true ad hoc capability, drag-and-drop Web 2.0 functionality, and an on-demand approach," Ching told TechNewsWorld.
Shift Toward Less Complex Tools
BI software aims to enable users to obtain enterprise-wide information more easily. Such products are considered a step up from typical decision support tools because they more tightly integrate querying, reporting, OLAP, data mining and data warehousing functions. Many products claim BI capabilities, but the end goal is to let users slice and dice the information from their organization's numerous databases without having to wait for their IT departments to develop complex queries.
SRC provides geographic BI software to Fortune 500 companies.
"Contemporary analytic software must be able to access all relevant datasets necessary for the appropriate analytics to result," said Dean Stoecker, SRC CEO and cofounder. "POS (point-of-sale) data, third-party information, spatial information, content in spreadsheets on up to high-end datamarts … and it must occur quickly so that the relevant actions can be taken from the results. For example, [there's] no sense in having a model that takes so long to build that it is out of date by the time it is completed."
In addition, analytic software must have the ability to deploy analytic best practices that result from the use of the tools, Stoecker told TechNewsWorld.
BI and Web Analytics Merge
While BI is about quickly obtaining enterprise information, Web analytics encompasses the collection, analysis and reporting of information about user activity on company Web sites. This process of analyzing the behavior of Internet visitors involves the study of the impact of a Web site on its users.
Distinctions between the two should be disappearing fairly quickly, according to Gary Angel, president and CTO of Semphonic, a tool-independent Web and search engine marketing analytics consultancy.
"I think it's clear that there's an increasing merger between traditional BI and Web analytics," wrote Angel on his SemAngel blog. "This is true both in terms of data integration and tools. That's certainly going to accelerate, and I see no reason why, in three years, the two disciplines will be separate in any meaningful sense. In addition, I think we'll start to see much more 'data-driven' analysis within Web analytics."
In 2006, IDC estimated the size of the 2005 Web analytics market at US$318 million and projected it to more than double in the ensuing five years. JupiterResearch put the size of the Web analytics market at $463 million in 2006. Today, the market is above $500 million.
This growth has occurred because the Web has become a part of the marketing mix model and is proving its value, according to Jim Sterne, president of the Web Analytics Association (WAA).
"Today, Web analytics tools can do their magic from afar," Sterne told TechNewsWorld. "Ten years ago, we weren't thinking about selling Software as a Service. Today's tools are also much more capable of capturing the growing quantity of data and segmenting visitors to ensure the best possible response to a click. Further, 21st century tools are becoming more integrated with other marketing systems like e-mail, direct mail, telemarketing and in-store sales."
E-commerce companies often use Web analytics software to measure such concrete details as how many people visited their site, how many of those visitors were unique visitors, how they came to the site (i.e., if they followed a link to get to the site or came there directly), what keywords they searched with on the site's search engine, how long they stayed on a given page or on the entire site, what links they clicked on and when they left the site. Web analytic software can also be used to monitor whether or not a site's pages are working properly.
With this information, Web site administrators can determine which areas of the site are popular and which areas of the site do not get traffic. They can then use this data to streamline a site to create a better user experience.
The Web analytics industry has fully embraced multivariate (or multi-variable) testing, a technique commonly used in statistics for testing hypotheses on complex systems, especially the testing of market perceptions.
"At the moment, the latest and greatest technologies are multivariate testing tools coupled with dynamic content servers," said the WAA's Sterne. "The result is getting the right message to the right person at the right time. We're moving closer to automated marketing with every step."
A previously technology-centric market is becoming a process-centric market, and sales hinge around vertical expertise, best practices, and how well the Web analytics solution integrates with other systems. Enterprises are asking how a Web analytics system helps foster an online presence (i.e., how does it integrate with content management, search, categorization, personalization, e-mail marketing systems), or how can it participate in multi-channel analysis?
Web Analytics Tools
The three largest ad networks — Google, Microsoft and Yahoo — have bought/developed a Web analytics tool/service provider and are now offering that tool/service for free.
Google Analytics (GA) is Google's free SaaS offering for generating detailed statistics about the visitors to a Web site. Its main highlight is that a webmaster can optimize AdWords and ad and marketing campaigns through the use of GA's analysis of where visitors came from, how long they stay on the site, and their geographical position. Users can define and track conversions. Goals might include sales, lead generation, viewing a specific page, or downloading a particular file. By using this tool, marketers can determine which ads are performing and which are not, as well as find unexpected sources of quality visitors.
While Omniture is the largest pure-play Web analytics firm and Google is, well, Google, enterprises can select from a good-sized list of established vendors. In addition to Google, SaaS-only vendors include Coremetrics, Digital River,Nedstat and Omniture. Hybrid SaaS and traditional software vendors include 24/7 Real Media, Auriq Systems, Foviance, Indextools, Lyris, SageMetrics, Unica, VisualSciences and WebTrends.
Microsoft also plans to enter this space later in 2008. Its Web analytics program, in beta, is called "Project Gatineau," and the Microsoft Web analytics tool is focused on the same target as Google Analytics.
Breakthroughs in Analytics, Part 1