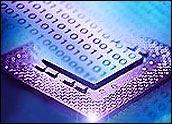 Broadcom announced on Monday a new, single-chip HSPA (high-speed packet access) processor that integrates multiple 3G cellular and mobile technologies on a single, low-power, 65 nanometer complementary metal oxide semiconductor (CMOS) die.
The "3G phone on a chip," which Broadcom says is the world's first such single-chip solution, enables manufacturers to build 3G (third generation) high-speed uplink packet access (HSUPA) phones with breakthrough features, sleek form factors and very long battery life at a lower cost than they can using competing solutions, the Irvine, Calif.-based company said.
"With what we believe is more than a full year's lead over similar competing products, this new 3G solution should place Broadcom squarely at the head of the hyper-competitive 3G chip race," said Yossi Cohen, senior vice president and general manager of Broadcom's Mobile Platforms Group.
"Our investments in multi-modal CMOS RF (radio frequency) and high definition multimedia technologies will further widen our mobile technology leadership in the coming years," Cohen added.
The chip is available now to Broadcom's early access customers at quantity pricing.
High-Speed Demand
Technically known as the "BCM21551," the device combines a high-speed HSUPA 3G baseband, a multi-band radio frequency transceiver, Bluetooth 2.1 with enhanced data rate (EDR) technology, an FM radio receiver and an FM radio transmitter for car stereo music playback.
It also features advanced multimedia processing, support for cameras with up to five megapixels, and 30 frame-per-second video with "TV Out," as well as support for the HSUPA, HSDPA (high-speed downlink packet access), WCDMA (wireless code division multiple access) and EDGE (enhanced data rates for GSM evolution) cellular protocols. It can be paired with other Broadcom devices as well, such as WiFi and GPS (Global Positioning System), power management units, or the new VideoCore III mobile multimedia processor, Broadcom said.
Advancements in cellular technology — such as Internet applications and Web services, multimedia, high-resolution video and photography, games and music — are driving demand for faster cellular networks and multimedia phones that can take advantage of them, the company said. There are already more than 900 million subscribers in HSPA enabled networks today, and many network operators are planning massive worldwide deployment of HSUPA over the next several years, it added.
Future Promise
Users of phones enabled by the new Broadcom processor will be able to download content at speeds as fast as 7.2 Megabits per second (Mbps) and upload content such as pictures and videos at up to 5.8Mbps, all directly from their phone. HSUPA technology also holds the promise for much higher quality "live" video conferencing and an array of exciting services and applications, Broadcom said.
"This is a pretty interesting step ahead of both Texas Instruments and Qualcomm," Allyn Hall, a director with In-Stat, told TechNewsWorld. "Qualcomm is more CDMA-focused, and hasn't emphasized supporting high speed as much, but this will definitely put pressure on TI."
Texas Instruments offers capabilities similar to what Broadcom is offering on its chip, but TI's solution would require more like three chips for comparable functionality, Hall noted. "This will make powerful multimedia phones easier and less expensive to develop."
Chasing Broadband
3G and other high-speed network designs are essentially striving to put broadband speeds on the cell phone, Neil Strother, a wireless analyst with JupiterResearch, told TechNewsWorld.
Real-world conditions in wireless make that much more difficult to achieve than when there is a dedicated pipe such as with broadband, but "every incremental step brings us closer," he noted.
The speed race currently in progress in the wireless world is much like that in the PC realm back in the 1980s, Strother added. Any resulting improvements, however, likely won't be felt for at least 18 months, he said. "This is a case of 'yeah for the technology,' and things are moving ahead, but it probably won't make a hill of beans for the little guy any time soon." he explained.
"It is a win for Broadcom, though," Strother concluded. "It shows they're in the game too, and want to be taken seriously."