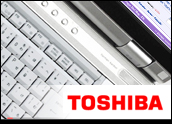 Toshiba chose the CEATEC electronics show in Japan this week to demonstrate the capabilities of a notebook supercharged with the new "SpursEngine" processor.
Journalists attending the event seemed particularly impressed with the way the Cell Broadband Engine technology enabled a laptop to sense hand movements and convert them into commands. The ability to do so allowed a Toshiba laptop user to control the computer's DVD player using hand motions rather than buttons or keystrokes.
The manufacturer also showed how a SpursEngine- and camera-equipped laptop could capture an image of the user, place it on the monitor and allow manipulation while in motion — allowing real-time experimentation with different hairstyles or make-up, for example.
New Levels of Video Realism
SpursEngine is a high-performance stream processor that integrates Synergistic Processing Element (SPE) technology from the Cell engine, the chip that is the brain of Sony's PlayStation 3.
Cell was jointly developed by IBM, Sony and Toshiba. It features a central processing core based on IBM's Power Architecture technology and eight SPE cores.
The SPE processor core is especially adept at processing intensive multi-media applications. The SpursEngine is "expressly designed to bring the powerful capabilities of the Cell technology to consumer electronics and to take video processing in digital consumer products to new levels of realism and image quality," Toshiba said.
The SpursEngine may not revolutionize the PC, but it might boost the fun factor, said Brian Matas, vice president of market research for IC Insights.
"I think from a fun or entertainment standpoint it could add some additional sales, but in terms of overall processing performance of the computer, I'm not sure I would expect it to be groundbreaking," Matas told TechNewsWorld. "But in terms of adding different features, it sounds kind of fun or at least very interesting."
Saving Some Watts
The SpursEngine uses four of the Cell's nine processors. They operate in tandem with the notebook's regular processor to boost video processing, said Toshiba. The company explained the new co-processor meshes the four Cell core SPEs with hardware dedicated to decoding and encoding MPEG-2 and H.264 video.
The combination allows for an "optimized balance" between processing horsepower and power use, according to Toshiba. Running at a clock speed of 1.5 GHz, the SpursEngine uses 10 to 20 watts. It uses XDR DRAM memory as working memory, a design that enables the high rates of data transfer necessary in handling multimedia tasks.
From Tool to Toy
Toshiba has not said when it plans to make the SpursEngine commercially available, other than to say it wants to do so as soon as it finishes writing specifications for commercial production.
The SpursEngine is the type of technology that is becoming increasingly important as computers become entertainment devices, said IDC analyst Richard Shim.
"The industry has made a lot of progress with PCs going from strictly productivity tools to multi-media systems and devices that fit various lifestyle and usage models," Shim told TechNewsWorld.
The industry also benefits from innovation along the lines of that demonstrated by Toshiba, he said.
"These sorts of technologies are what the industry needs as more and more of the main components are commoditized," said Shim. "This touches on a few trends in the industry where we are looking at different types of interfaces to interact with the PC and that sort of differentiation is important for spurring innovation."