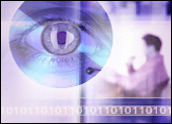 There is a new browser available for Internet users seeking a more private way to surf the Web — a group that has suddenly become much larger in the wake of AOL's accidental disclosure of some members' search terms. Called Browzar, it has been launched by Ajaz Ahmed, founder of the Freeserve ISP in the United Kingdom.
Browzar doesn't save any cache, history, cookies or use auto-complete, the feature that reveals earlier search terms that begin with the same letter. Any temporary files that are created when surfing the Web, as well as cookies, are deleted when Browzar is closed.
Browzar can run on Windows 98 Second Edition and Internet Explorer 5.5. The company plans to release a Mac version, according to its Web site, which also hints at the possibility of a Linux version as well.
Easy to Use
Certainly many of the mainstream browsers offer similar privacy features, or at least some of them. Not all Internet users, though, are tech savvy enough to turn these features on or off; many people don't even know they exist.
Alongside the mainstream browsers, there are also niche applications for the privacy-minded. Browzar seems to have planted itself squarely in the middle of these two groups — it is easy enough for a technophobe to use and its entire raison d'etre is to protect privacy.
The number of people interested in such a product are growing, according to Ari Schwartz, the deputy director of the Center for Democracy and Technology in Washington, D.C. "People are becoming more and more concerned about privacy and are looking at ways to protect themselves," he told TechNewsWorld.
Moving to the Forefront
Indeed, there have been a number of high profile events over the last year that have spotlighted how easily one's Internet actions can be recaptured after the fact and worse, made public. AOL's disclosure of search terms is one example. While the company did not connect search terms to specific users, some of the search requests provided enough personal details that identifying the AOL member involved became a matter of simple detective work.
This incident was preceded earlier this year by the news that the Justice Department had requested — and in some case, received — search data from all of the major search engine providers in order to research ways to re-establish an online child protection law.
"Over the past year, it has become clear to informed Internet users that what you do and look at on the Internet can come back to haunt you," Schwartz said.