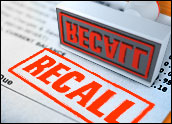 Finnish cell phone giant Nokia will replace for free 46 million batteries due to an overheating problem, even though incidents of the batteries malfunctioning have been "very rare."
The company will replace any Nokia-branded BL-5C battery made by Matsushita Battery Industrial between December 2005 and November 2006. About 100 of these 3.7 volt batteries have malfunctioned so far, causing them to overheat due to a short circuit while being charged, Nokia said. The overheating makes the batteries "dislodge," the company said, stressing that nobody has been injured and no property damage has been reported.
The recall does not apply to any other Nokia-branded battery and only to a portion of the BL-5C batteries that were sold. Nokia has several suppliers for BL-5C batteries "who have collectively produced more than 300 million" of the units, the company said. It is "working closely" with Matsushita and cooperating with authorities investigating the problem.
On the List?
The company has set up a Web site that allows Nokia owners to input the battery identification number found on the batteries in their phones. This will determine if the BL-5C battery they are using is subject to the recall.
Alternatively, Nokia owners can contact their local Nokia call center, the company said.
Removing the battery is the first step to finding out if the unit is on the recall list. The recalled batteries will have "Nokia" and "BL-5C" printed on the front. On the back the Nokia trademark will be at the top and the 26-character battery identification number will be at the bottom.
The BL-5C is one of 14 different batteries used in Nokia's products. The recall affects the following phone models: 1100, 1100c, 1101, 1108, 1110, 1112, 1255, 1315, 1600, 2112, 2118, 2255, 2272, 2275, 2300, 2300c, 2310, 2355, 2600, 2610, 2610b, 2626, 3100, 3105, 3120, 3125, 6030, 6085, 6086, 6108, 6175i, 6178i, 6230, 6230i, 6270, 6600, 6620, 6630, 6631, 6670, 6680, 6681, 6682, 6820, 6822, 7610, N70, N71, N72, N91, E50 and E60.
Temporary Setback
While Nokia's stock price took a tumble right after the recall was announced, the battery situation is not expected to have any significant, long-term effect on the company. It is important to note that the overheating batteries haven't hurt anybody, Strategy Analytics wireless analyst Chris Ambrosio told TechNewsWorld.
"Since no one suffered 2nd-degree burns from an exploding battery, Nokia should be able to skirt this issue with minimal impact to its brand or share price," he noted.
The company should not have a problem handling the potentially massive number of replacements, Ambrosio said. "Nokia has several suppliers so its a non-factor in terms of being an impact on component supply," he said.
Nokia's conscientious reaction should protect it from any attempt by competitors to use the incident to gain ground, JupiterResearch wireless analyst Neil Strother told TechNewsWorld.
"Clearly, it's not good news for Nokia, nor for Matsushita, the battery manufacturer," said Strother. "But in the long run, it probably won't hurt Nokia too much. Not all of the 46 million batteries in question will be returned, and a significant number of those phones have been replaced already, given that people replace handsets anywhere from 12 to 18 months. Competitors might try to make up some ground on Nokia over this, but I don't think they'll have much success."
Since there were no injuries and because Nokia is "so dominant already, that many consumers might just ignore the issue," he added.
Not the First
The Nokia recall is not the first involving cell phone batteries. Kyocera Wireless recalled about a million batteries in 2004 after receiving 14 reports of battery failure that produced smoke and caused minor burns and property damage. In that case, it was determined that some of the Kyocera cell phone batteries supplied by the battery manufacturer appeared to be counterfeit and prone to short-circuits.
Also in 2004, Kyocera recalled about 140,000 batteries used in its model 7135 smartphones. A year earlier, Verizon recalled about 50,000 LG-branded batteries found to be counterfeit and lacking a safety device to prevent overcharging and overheating.
While those cases involved counterfeit batteries, even legitimate battery makers are having trouble keeping up with the demands of new cell phones, said Ambrosio.
"Processor speed and power, feature configurations and processing demands of cellular handsets are developing very quickly, too fast for the slower, linear improvements that battery suppliers are making in their technology," he noted. "Suppliers obviously don't want anyone to get hurt and they continue to try to make improvements in this area."
Strother believes batteries will continue to be a concern, "but we expect it to be mainly an irritating issue to be handled by handset and battery supplier PR departments" more than one that slows phone availability or company market share prices.