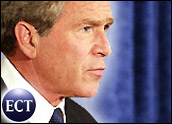 President George Bush cited the observations of two Iraqibloggers who have been making positive posts about the changing situation in Baghdad as evidence that U.S. activities there are finally having the intended effect.
"Displaced families are returning home, marketplaces are seeing more activity, stores that were long shuttered are now reopening," Bush quoted one of the bloggers as saying. "We feel safer about moving in the city now. Our people want to see this effort succeed. We hope the governments in Baghdad and America do not lose their resolve."
The media — not to mention the blogosphere, and of course the administration's critics — immediately pounced on the remarks, which Bush made during a speech to the National Cattlemen's Beef Association.
"What else do you expect? Those posts are probably the only evidence that the war is going well," Doug Schoen, former pollster for the Clinton administration and author of the upcoming book, The Power of the Vote, told TechNewsWorld.
"I notice President Bush didn't mention all of the bloggers who are against the war and who are describing the pain the war has caused," Mehdi Noorbaksh, an associate professor of international affairs at Harrisburg University of Science and Technology in Pennsylvania, told TechNewsWorld.
Supporters — including the original bloggers — also chimed in.
An updated post welcoming the surge of traffic after Bush's comments put them on the map offers this response to critics: "I've seen … stories full of lies and accusations … and I think it's pathetic to throw the "you're a sold-out propaganda" accusation at people just because they don't share the same point of view. … This only reflects their lack of knowledge and the bankruptcy of ideas they suffer."
The Bigger Picture
An interesting fact has gone largely unnoticed in all the fuss: This is the first time a U.S. president has referred to bloggers in a speech, according to David E. Johnson, CEO of Strategic Vision, a Republican consultant who has worked with Bob Dole and Jeb Bush.
"What is interesting is that [Bush] is using bloggers to justify policy," Johnson told TechNewsWorld. "He is looking for new ways to reassure the public that his policy is working."
Key policymakers are paying close attention to blogs, he said. White House spokesperson Tony Snow and UK Prime Minister Tony Blair have both mentioned bloggers in similar fashion in the past, which "shows the tremendous effect blogs can have on policymakers."
Shaping Public Opinion
It is hardly surprising that bloggers are active in Iraq, Harrisburg University's Noorbaksh said. Noorbaksh, whose academic specialty is the Middle East, said that blogging has become a popular and very powerful form of communication in the region, especially in countries with totalitarian regimes.
"In Iran, bloggers play a very significant role in shaping public opinion, and they have been harassed occasionally by the government," he said.
To be sure, there is an advantage to citizen journalism, which is how some bloggers describe what they do. However, a common argument — one with merit — is that bloggers often do not follow the basic tenets of journalism, which require impartial and balanced reporting.
"Having all those eyes so close to the fighting — especially when so many reporters can't get too close — that is the advantage of blogs in Iraq," David Mindich, a professor at Saint Michael's College in Vermont and author of Tuned Out: Why People under 40 Don't Follow the News, told TechNewsWorld.
"But bloggers only see their little piece of the war," Mindich noted, "whereas a journalist tries to find balance and speaks to a wide range of authorities."