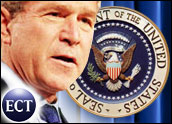 President Bush urged spending more federal funds to improve math and science programs in U.S. schools during his State of the Union address Tuesday night, a call to action that won approval from private sector execs in the tech industry as well as science professors at universities.
"I generally think the schools do a decent job of preparing folks for [the private sector], but given the intense global competitiveness in the economy, I think more is always better," Brad Baird, vice president of sales and marketing at Excelsior Software, told TechNewsWorld.
Excitement and Anxiety
Bush endorsed a proposal by Education Secretary Margaret Spellings to train 70,000 new math and science teachers, to bring 30,000 math and science professionals into classrooms, and to improve basic education in these disciplines overall.
More investment in the science and math disciplines is necessary if the United States wants to remain competitive, E. Ann Nalley, president of the American Chemical Society and a professor of chemistry at Cameron University in Lawton, Okla., told TechNewsWorld.
"We are excited about the president's message on American competitive initiatives and anxious to hear more about it," she commented, "because there is a definite need for it."
The U.S. lags behind most countries in training teachers in these areas, Nalley pointed out, citing a National Academy of Science report, "Gathering Storm: Energizing and Enabling America's Future."
"We are simply not at the same level as other countries," she said.
Tight budgets in many schools also contribute to U.S. weakness, according to Nalley. Increased funding is an area where the private sector can play a greater role, she suggested.
"Companies already do a lot; Texas Instruments, as one example, gives calculators to science and math teachers. Halliburton also does a lot to support science education," she noted, "but far more needs to be done."
University Level
One bright spot in the American education system, it has been widely assumed, is its universities. However, a recent survey by the American Institutes for Research has punched a few holes in that balloon.
It found that more than 50 percent of students at four-year schools lacked the skills necessary to perform complex literacy tasks, such as comparing credit card offers based on their interest rates and fees.
That said, American universities still have a reputation for being very strong in the science and math disciplines.
"In the technology area, we are still pioneering leading technology," Excelsior's Baird said. His company moved to Colorado some 14 years ago in large part to be near the top engineering and technical colleges in the country. "We wanted a rich field of potential employees to choose among," he said.
A Truer Test
Getting a nod in the State of the Union address does not guarantee that a policy will be implemented, needless to say.
"In this respect, the president is the cheerleader," John M. Orman, a professor of politics at Fairfield University, told TechNewsWorld. "He tells people in Congress [and] the American people what he hopes to see happen — but he has to wait for Congress to proposal actual bills."
The true test of the Bush administration's commitment to these talking points, Orman said, is the budget, which is scheduled for release next week. "When that comes out, we can see what areas have taken a hit."
The Bush administration has been in power for five years, supported for most of that time by a Republican-led Congress, Orman pointed out. "These things he suggested during the State of the Union — from lesser dependence on oil to more investment in science and math education — could have happened already."
Bush has had the clout to push his favored initiatives through Congress for some time, Orman implied.
Educators and private-sector executives may have to scale back their expectation for increased investment in their fields, he cautioned, due to one problem Bush didn't mention during his address: the budget deficit.
"This administration is setting all kinds of records — borrowing from Asia and Europe. We are now the world's largest debtor nation," Orman observed.
The bottom line could be that where there is a political will, there still is no economic way.