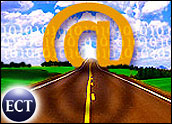 Microsoft is aggressively promoting its push e-mail service as a slew of partner carriers announce its availability at an industry trade show.
Microsoft has been honing its wireless messaging strategy at least since last fall, when it released its Exchange Server Service Pack 2, according to Gerald Flournoy, executive vice president of the Millennium Group.
"The update featured push e-mail technology. So when the server receives messages, they're automatically sent to a mobile device instead of the user having to manually pull them down himself or schedule retrievals at set intervals," he told TechNewsWorld.
The service has been available on the back end, but it wasn't until this week's 3GSM World Congress in Barcelona that end-users finally found out when their smartphones could take advantage of that capability, Flournoy said.
RIM was unable to comment in time for publication.
Competing on Cost
RIM's BlackBerry is the market leader by far in this space. Indeed, its brand has become synonymous with mobile e-mail. It has competition, of course, including offerings from Visto, Good Technology, Nokia and Sybase iAnywhere. Additionally, RIM is under siege from NTB; several courts have ruled that RIM infringed on its technology.
Then there is RIM's cost structure, a vulnerability that Microsoft is trying to exploit with Direct Push, which does not require additional license fees.
"With this new push e-mail initiative for wireless users, there is a possibility that Microsoft will do for wireless e-mail the same thing they did for the Web browser market — create a zero-revenue proposition for the competition," Apresta President Al Smith told TechNewsWorld. Apresta, a division of Saratoga Systems, makes enterprise data available to BlackBerry, Treo and other wireless devices.
In general, alternative providers of these systems have reaped the benefits that the pending intellectual property litigation has generated, Bryan Whitmarsh, product manager of Sybase iAnywhere told TechNewsWorld. Costs, though, have been an equally significant a driver behind migration away from RIM.
"We have seen interest not only in companies looking for an alternative to RIM — but also [a] supplement," he said. Companies are rolling out mobile e-mail deeper into their organizations, and while they may have started out with RIM for these new deployments, they are seeking providers that offer lower cost services.
The problem these companies have with RIM, he said, is its recurring fees. That is where Sybase iAnywhere has the advantage, he said.
"We see our market share growing for all these reasons," Whitmarsh added.
A Wave of Competition
RIM is about to be bombarded with more competition, thanks to Microsoft's multi-carrier rollout, Flournoy said.
In spite of the success of its BlackBerry handhelds, users — and, especially, enterprises — prefer choice, he maintained. "To succeed over the long haul, a mobile e-mail platform should support more than a single type of device."
Carrier partners Cingular Wireless, Orange, T-Mobile and Vodafone will be offering free Direct Push upgrades for subscribers' Windows Mobile 5.0 devices. Palm and iMate also announced they would update their current Windows Mobile devices.
"Several new Windows Mobile devices … unveiled Monday will support Direct Push too," Flournoy noted. "These include Hewlett-Packard's highly-anticipated iPaq hw6900 Mobile Messenger, the Gigabyte Communications g-Smart offered by Chunghwa Telecom in Taiwan, the ASUS P305 3G-enabled smartphone, and the Fujitsu Siemens FS Pocket Loox."
Additional smartphones with Direct Push capability will be announced next quarter, Flournoy continued, as the Taiwanese original design manufacturer High Tech Computer — the company behind some of the most commonly found Pocket PC Phones on the market — also has a slate of Direct Push-enabled Windows Mobile devices on tap for delivery to carriers.
Finally, Microsoft added Direct Push to Windows Small Business Server, and some operators will start offering it as a hosted service, starting with T-Mobile in Europe, he concluded.