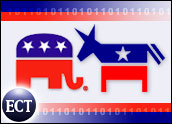 Eight contenders for the Republican presidential nomination will be debating each other Wednesday night, courtesy of YouTube and CNN. To be sure, the debate itself will be quite telling, with some pundits already laying odds that front-runner Rudy Giuliani may be dislodged from his perch by the evening's end.
Aside from the candidates' jostling for position, though, there's another burning question surrounding the event that may be equally telling about the Republican party's future: Can it truly adapt to the unscripted Web 2.0 environment?
From McCain to Paul
This is not to say that Republicans are unfamiliar with the Internet or have never raised a dime through the medium. Dark horse Ron Paul, for instance, recently raised US$4.07 million in one day. Mitt Romney, another front-runner for the nomination, broke fund-raising records earlier in the year, in large part fueled by a proactive and progressive Internet campaign.
There are other examples, as well, reaching as far back as the 2000 campaign, when John McCain raised $1 million online after he defeated George Bush in the New Hampshire primary. It goes without saying that all of the candidates have Web sites, Facebook profiles and so on.
Still, there is a perception — acknowledged even by Republican party supporters — that the GOP is behind the curve in leveraging Web 2.0.
"The Democrats are way ahead of us as far as understanding and using the technology," David E. Johnson, CEO of Strategic Vision, told TechNewsWorld. Johnson worked on Bob Dole's presidential campaign, as well as several other Republican candidates' campaigns over the years.
"I do think Republicans are competitive in some technologies and mediums, such as blogging," Holly Robichaud, CEO of Tuesday Associates, a Republican fund-raising and general consulting firm, told TechNewsWorld. "Where we do not excel is using technologies like YouTube in a more proactive manner."
This weakness is due, at least in part, to the influence of demographics — and the need to put the most resources where it makes sense. Both Johnson and Robichaud pointed out that Republican primary voters tend to be older and rely on more-traditional media, such as talk radio.
On the Horizon
Going forward, though, it is clear that more people will rely on interactive tools to get their news. In keeping with that trend, ABC and Facebook just formed an agreement to develop political Web 2.0 tools that will help Facebook users stay abreast of campaign developments. If the Republican party wants to leverage such formats to capture a larger audience decades in the future, it has to start now, Johnson said.
In a way, it is doing just that — but hardly to the extent that it should, he continued. "When I work with a candidate, we always try to focus on making the contact or outreach more interactive beyond the traditional fund-raising mode." This thinking can be as simple as including an e-mail address in a general mailing database.
Still, such strategies are tactical, at best. In the ongoing war between Democrats and Republicans, techies say it's the Dems who intuitively understand — and, more importantly, are comfortable with — the unpredictable nature of Web 2.0. They're the ones who have a grasp on how best to manage it. The subtext, of course, is that Republicans are close to clueless in this arena.
The real test, in short, will not just be the YouTube/CNN debate and others like it, but the entire online package.
The Message
One thing that Web 2.0 does not do is remove the need for a campaign to have a clear, coherent, concise message, Matt Eventoff, a political communications strategist and president of PPS Associates/Princeton Public Speaking, told TechNewsWorld.
"Presidential campaigns, in this cycle more than any other, have to pay extra attention to ensuring that the campaign does not get lost in the vastness of the Web — Web 2.0 or Web 3.0 — to the point where resources and attention are spread so thin that the central message no longer exists," he cautioned.
"Focus is more important this year than in any other, and is more challenging this year than any other. A campaign without a message is a losing campaign, no matter how technologically savvy," maintained Eventoff.
It is the end recipient of all these efforts — the voter — who will most likely be the first to know when Web 2.0 technologies have taken over a campaign.
Republican Brian Olson, vice president of public affairs at Video Professor, hopes to see Mike Huckabee win the Republican nomination. Olson first became acquainted with Huckabee's views via the Internet.
"The traditional, aka old, media, wasn't spending much time on him," he told TechNewsWorld. "So ol' Mike found a way to reach me directly. The next President of the United States won't be the one who had the biggest [campaign] machine. It will be the one who used the machine on his or her lap."