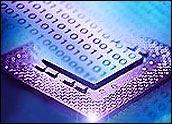 The next-generation computer chip known as "Cell" isn't just about fun and games any more. With the announcement of the first major Cell applications effort, the chip will be used to enhance data-intensive apps such as sonar and digital X-ray by Mercury Computer Systems.
Jointly developed by IBM, Sony and Toshiba, the Cell processor represents an entirely new, highly parallel processing system. The chip is best known as the processing engine of the next-generation PlayStation 3 gaming console from Sony. However, IBM has indicated there are many scientific and other high-level computing applications possible for the processor, which was unveiled earlier this year.
Analysts viewed the announcement of Mercury's high-computation applications with Cell as a logical step for the all-new processor, which will at first have to succeed in smaller industry segments before it gaining wider acceptance and use.
"Basically, you're going to have to start out with some fairly specific applications," said Dean McCarron, president of Mercury Research (not affiliated with Mercury Computer). "Essentially what it is is the product has to prove itself before it's accepted in general applications," McCarron told TechNewsWorld.
Advancing the Cutting Edge
Mercury, a Massachusetts-based maker of high-performance embedded, real-time digital signal and image processing systems, said it will integrate Cell into a variety of future products to improve the performance of its customer applications, which include radar, sonar, MRI, CT and digital X-ray applications. The systems will be able to process higher volumes of data in medical imaging, industrial inspection, aerospace and defense, seismic processing and telecommunications, the companies said.
They indicated, for example, applying the processing power of Cell — 200 gigaflops or 200 billion floating point operations per second — in medical imaging could yield significantly improved images that might allow earlier detection of disease.
"The tremendous performance advantages afforded by the Cell processor will enable Mercury to address an even broader range of compute-intensive challenges for our customers," said Mercury President and Chief Executive Officer Jay Bertelli in a statement.
Natural Market
Analyst McCarron said there may not be much volume in markets such as Mercury Computing's applications, but IBM and other Cell backers are looking to logical niches such as defense, life sciences, seismic and industrial applications to establish the chip.
"This is what you would expect as it expands out of the gaming console," McCarron said, adding that the embedded nature of Mercury Computing's systems makes sense for code development purposes, too.
"When you have a new architecture that's fairly alien, you want a controlled software environment so you're not having to deal with fresh software development all the time," he said. "This is a natural area for [Cell] to expand."
No Sure Thing
Gartner research vice president Martin Reynolds agreed Cell was limited to "nichey" markets, telling TechNewsWorld the Mercury Computing applications were nevertheless an appropriate match for Cell's power, which can handle billions of floating point operations all at once.
While Reynolds expected more, similar announcements and some promotion of Cell as the most compelling high performance solution by IBM, he said there are alternatives, such as DSPs (digital signal processors) and efforts by graphics companies to get Cell-like, parallel computing from the processor.
"It's by no means dead set that this is going to work," he said of Cell.