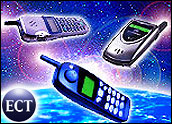 There are few of us who would choose to go anywhere without them, but we've all wished at one time or another that we had a magic jamming device that could hang up cell phones in the face of a loud, annoying user nearby. The fact is, for most of us, the only thing that makes us more angry than a fellow cell phone user is finding that our own cell phones can't get reception.
That may explain the poor customer service levels commonly gauged for wireless carriers, but industry analysts are familiar with the paradox, the dichotomy, the ultimate, ubiquitous utility with unparalleled, unmannered annoyance — the mobile phone.
"It's like getting married," Ovum vice president of wireless telecoms Roger Entner told TechNewsWorld. "People love their wife or their cell phone, but they learn all kinds of little quirks that drive them crazy."
Can't Do Without
Analogies to matrimony aside, cell phones do represent one of society's most widespread uses of new technology, which is put to use for both important business and insignificant banter.
Some industry analysts point to studies that indicate many people are not talking to anyone, or simply make calls to talk in public to appear important. But despite our disdain for the intrusion, mobile phones continue to gain in popularity and are quickly viewed as a necessity by their users, according to Entner.
"It shows how much utility the cell phone has," he said. "Despite the annoyances, we can't do without it."
"We've come to rely on this device in such a significant way that when it doesn't work, we get so upset," he added.
Manners and Carriers
Entner said while the U.S. does not match the etiquette of Asian nations on the cell phone, there are societal trends toward some degree of mobile phone manners. For example, most performances, some restaurants and other public locations prohibit cell phone use, and there are so-called "quiet cars" on Amtrak trains, where phones are among annoying devices that are not allowed.
"With increased usage, you just want to have areas where it's appropriate not to [use the cell phone]," Entner said.
Entner indicated the issue is not all talk, as carriers — such as T-Mobile, which recently boasted winning a customer service award — are beginning to improve their own manners with customers.
"I think every carrier is recognizing customer service is an important dimension and they have to focus on the customers they actually have," he said.
Competing on Quality
Gartner analyst Michael King told TechNewsWorld despite a history of getting new customers without having to focus on quality or customer service, wireless coverage has become a differentiator. Moving forward, however, King said technical quality will no longer be a competitive factor; it will be standard, thereby forcing carriers to compete on better service.
"Customer service and advanced services are going to be things people focus on more," he said. "It's also something carriers will spend more resources on."
King said consolidation of companies and networks is resulting in "mega carriers," which have the footprint to deliver quality service, although customers have come to expect some holes in their coverage.
Courtesy Through Technology
In terms of mobile phone etiquette, or lack thereof, King said the current debate over cell phones on airplanes is a microcosm of the cell phone contradiction.
"I want mine, but not you, sitting next to me. I don't want you to have one," he said. "It's the 'smoking' of 2000. I can just see the 'cell phone section' on the plane."
The wireless analyst agreed the U.S. is different from countries such as Japan or South Korea, where etiquette prohibits use of wireless phones on public transit and in other public places.
However, society may be assisted in learning its manners by technology, according to King, who pointed out those Asian users are busy with short message service (SMS) and other, less audible forms of communication when not talking on cell phones.
"The more advanced societies and their wireless use may be a glimpse into the future, hopefully," he said. "There are new services that are communication rich, but not as invasive. In that, technology is helping us be a bit more polite."