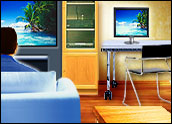 Although celebrities such as Jackie Chan, rapper Ludacris and baseball legend Cal Ripken Jr. will make appearances, the real stars at the upcoming Consumer Electronics Show (CES) in Las Vegas this week will be the cutting-edge gadgets.
Now considered to be the biggest IT show in North America after last year's cancellation of Comdex — which was more business-oriented — CES represents the increasing importance and power of consumers, who have the bulk of the latest technology in their homes, cars and pockets.
Analysts indicate that faster, farther wireless technology, larger liquid crystal display (LCD) and plasma flat-screen televisions, and mobile memory are among the anticipated highlights of the show, which kicks off tomorrow and runs through the weekend in Sin City.
Consumer Importance
Yankee Group senior analyst Dana Gardner said the end of Comdex, which was also held in Las Vegas, and the rise of CES illustrates the shift in market opportunity from the enterprise to consumers. CES and the SIGGRAPH show for content creators have emerged as the biggest IT shows of North America. "We're really seeing much more activity on the consumer side, and it makes this show much more prominent now," Gardner told TechNewsWorld.
Referring to the rapid uptake of iPods and other MP3-players, flat-panel televisions and the booming interest in the wireless home, Gardner said the consumer market had become much more important to the IT industry.
Martin Reynolds, a Gartner research vice president, said the rate of innovation and change in the PC business was what drove the Comdex show in its heyday. Dell's direct business model changed the need for a conference on the latest enterprise products and deals, and the forward push of innovation is now occurring on the consumer side, Reynolds told TechNewsWorld.
"Really, everything has gone digital and it's that same pace of change that's driving CES," he said.
Headed for Home
While other analysts have pointed out the importance of new wireless, flat TV and music player technologies, Reynolds said it is also key that the new, larger and flatter televisions are also digital and increasingly designed to project content from computers.
"We've also got the Microsoft media stuff, where you use the PC to remotely send it anyplace in the home," Reynolds said.
Other electronics to watch during this week's show, Reynolds aid, include digital cameras and digital music players.
Data Storage To Go
While he highlighted wireless, flat panel and other technologies that will be hot at this year's CES, Gardner also said the iPod model had boosted the data storage capabilities of hand-held devices in general.
"We're seeing people walking around with iPods with 120 or more gigabytes in a hand-held," Gardner said. "That suddenly opens up the opportunity for what I call client cloud capabilities, where you can hold all of your pictures, your music, you can take pictures and of course still use your handheld for voice communication."
Gardner added the increased storage on mobile devices would allow for a new set of applications and data-rich capabilities.
The CES show runs from January 6 through January 9 at the Las Vegas Convention Center.