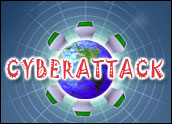 Well, President Obama will definitely have something to talk about.
Beijing announced that China will conduct its first "digital war games," a proclamation that will likely do nothing to allay United States concerns about China's propensity for hacking and cyberespionage.
The timing of the announcement is noteworthy, given that Xi Jinping, China's president, will meet with Obama next month to discuss cybersecurity.
The White House has ramped up its rhetoric on Chinese hacking in recent months, perhaps emboldened by a report from U.S. security firm Mandiant, which said China's military has for years been hacking U.S. institutions and companies.
First reported by the Xinhua news agency, next month's war games, which will take place in the far-north Inner Mongolia region, will test "new types of combat forces" that might come into play in what the agency called "informationlized war."
The U.S. is not alone in its accusations against China. This week, Australia's ABC television said that Chinese hackers had stolen floor plans to the new US$600 million headquarters for the Australian Security Intelligence Organization.
[Source: The Guardian]
Google's Concessions Not Good Enough for EU
Those concessions Google offered the EU last month — the ones that were supposed to put an end to Europe's antitrust investigation into the company? Yeah, those weren't good enough.
The European Union announced — perhaps warned is a better word — that Google might need to pile on some more concessions to settle its two-plus-year antitrust investigation. Sans more concessions, Google could face formal charges for violating EU competition law, according to Joaquin Almunia, the EU's competition commissioner.
Almunia's proclamation is perhaps a nod to Google's competitors, which were given an opportunity to review Google's proposed concessions. If said competitors aren't satisfied with concessions agreed to by the EC, then they could in fact sue the commission for not being tough enough. Hence, regulators want to get it right.
Europe's investigation into Google began in November 2010 and has proceeded at a snail's pace. In December, antitrust officials gave Google a January deadline to come up with detailed proposals. No such proposals were publicly announced, but there was optimism that last month's proposals could put an end to the current investigation. It looks now like that won't be the case.
[Source: The New York Times]
Cuba Announces Expansion of Public Internet Access
In other state-run media announcements: The Cuban government declared that it will expand public access to the Internet by establishing 118 Internet points throughout the island starting in early June.
This is no pro bono endeavor: Accessing international websites will cost US$4.50 per hour, extremely pricy, given Cuba's $20 per month average salary. Checking national sites will cost $0.60 per hour.
The government added that it will continue to monitor Internet traffic, with the Ministry of Communications saying that access would be cut off if users run afoul of state guidelines.
In-home Internet access is something of a luxury in Cuba, which leaves citizens accessing the Web at work or school, and checking emails at post offices. This is a step toward in-home access, according to the government.
The state's telecommunications monopoly, Etecsa, announced in January that it would begin using a fiber-optic cable connecting to Cuba from Venezuela.