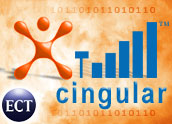 Cingular, Samsung and Microsoft have launched a new smartphone that leverages the latest functionality in Microsoft's Windows Mobile 5.0 operating system and takes advantage of consumer demand for the ultra slim form factor.
Called "BlackJack," this is Samsung's first full-keyboard phone in its ultra slim product line — its answer to Verizon's increasingly popular Motorola Q phone. For Cingular, the product introduction represents the first time the company has offered Windows Mobile on this particular phone design, IDC analyst Ryan Reith told TechNewsWorld, the last phone being a flip phone.
"This introduction comes at good time for Cingular for a number of reasons," he said. It follows on the heels of several new multimedia service offerings the firm has introduced in recent weeks, plus a redesigned Web site — which reflects in part some internal changes at the company, he noted — not to mention the upcoming holiday season. "Usually we seeproducts like this introduced in August," he said. "This one came out just in time."
Latest Offerings
Much of the phone's functionality builds on Cingular's multimedia music and video services. Like other carriers, Cingular has developed very robust offerings in these areas. BlackJack, for instance, is preloaded with the company's recently announced Cingular Music — an XM Satellite Radio offering.
Other features include an MP3 player and Cingular Video, an on-demand video streaming service. High-speed Internet access, of course, is also part of the feature lineup. It's offered via Internet Explorer on Cingular's 3G and EDGE (Enhanced Data rates for GSM Evolution) networks. It also comes equipped with a 1.3 megapixel digital camera with video capture,Bluetooth headset support and the aforementioned QWERTY keyboard.
BlackJack also offers Good Mobile Messaging, Microsoft direct push technology with Outlook Mobile, and Cingular Xpress Mail. There have been a number of improvements to the Windows Mobile platform over the last several months, Reith noted, including better support of streaming video and music capability, which BlackJack also leverages.
Also included are aMessaging and Security Feature Pack for Windows Mobile 5.0, as well as such security features as remotedevice wipe and encryption.
Price Points
The BlackJack will be available November 16, 2006, for US$199.99. There is a $100 mail-in rebate, and the price is contingent upon a two-year activation of a qualified voice plan and an unlimited data plan — which adds significantly to the consumer's monthly phone bill.
For competitive reasons, though, it was important for Cingular to be able to offer the phone at this price point, Reith said, "even with the little asterisk beside the advertised price."