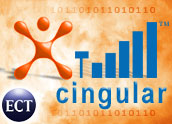 Cingular and MySpace are teaming up to offer Cingular customers the ability to navigate social networking site MySpace from their devices. MySpace is one of the fastest-growing Web sites as well as among the most trafficked, with more than 130 million user profiles.
For US$2.99 a month, users will be able to upload photos snapped from their cell phone cameras, respond to e-mails on their MySpace accounts, update their blogs and otherwise browse the site. Over the next month, some 90 phones will be able to support the application that users must download to make their phone MySpace friendly.
Generation Play
Cingular is aiming at a specific demographic with this agreement with MySpace, Charles King, principal of Pund-IT Research told TechNewsWorld. "MySpace is dominated by young people with purchasing power and are enthusiastic participants in wireless technology."
This move is something of a departure from previous strategies deployed by wireless companies, which have tended to focus on specific products or content in order to drive adoption. "They have offered news clips or clips from popular TV shows, for instance, in order to attract the fans of that show," King noted.
Web 2.0
That may be changing as Web 2.0 technologies and, more importantly, content continue to gain traction.
Cingular's agreement with MySpace is a reflection of a larger trend of merging delivery channels and agnostic content that can be distributed on any platform.
Google's $1.65 billion acquisition of YouTube is just one case in point. Another is the more recent news that Skype is planning to launch a new Web-based broadband television service next year. "The ways in which entertainment is distributed have changed radically in just a few short years," King said.
Form Factor
Cell phone service providers and device manufacturers have stepped up to this challenge, developing new products that can easily digest such content and allow users to interact with Web sites such as MySpace or YouTube.
Last month, for instance, Cingular introduced its latest smartphone, called BlackJack. It leverages the latest functionality in Microsoft's Windows Mobile 5.0 operating system with a full keyboard phone with multimedia capabilities. In addition, BlackJack comes preloaded with the recently announced Cingular Music service.
Other features include an MP3 player, Cingular Video, an on-demand video streaming service and high-speed Internet access offered via Internet Explorer on Cingular's 3G and EDGE (Enhanced Data rates for GSM Evolution) networks. It also comes equipped with a 1.3 megapixel digital camera — a now standard feature on the latest phones.