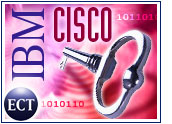 Cisco and IBM have announced a new partnership and new products to tie the network and datacenter closer together to reduce IT complexity while increasing performance.
The two companies said their "global strategic alliance" will integrate Cisco's networking technology with IBM's systems and software through products and services such as an IBM-Cisco switch for IBM's eServer BladeCenter, improved server load balancing, and Tivoli Provisioning Manager and Storage Area Network (SAN) Manager enhanced for Cisco's datacenter network and SAN-switch technologies.
"Working together, Cisco and IBM can now provide customers a comprehensive networking and systems solution specifically designed for the datacenter," the companies said in a statement to the press. "The new solution can enhance datacenter server, network and storage deployments which can help improve systems management, cost effectiveness and overall performance."
Network and Datacenter Need
Yankee Group senior analyst Zeus Kerravala told TechNewsWorld that the move comes mainly from Cisco's Business Ready Data Center strategy. While the networking giant previously had not had much of a datacenter product, it is filling the gap with the Business Ready environment and IBM partnership.
"I think Cisco does have value in the datacenter, and the Business Ready Data Center environment is it," Kerravala said.
The analyst added that although Cisco and IBM were not rivals — the companies have worked together on Cisco switches in IBM servers for years — they did have differing views of the value of the network, the system and one over the other.
"What they're saying now is, you really need both," Kerravala said.
Hardware, Software and Services
Although they did not announce pricing or timelines for the new products and services, Cisco and IBM did say the new Cisco Intelligent Gigabit Ethernet Switch Module (IGESM) for IBM blade servers and other products is among a number of initiatives that will continue.
An IBM spokesperson told TechNewsWorld that many of the plans are still being devised, but that the overall effort is a strengthening of the companies' existing partnership and a recognition of network and IT infrastructure convergence.
The two companies said the IGESM will extend the Cisco Business Ready Data Center environment into IBM's BladeCenter to reduce infrastructure complexity and simplify management. Other parts of the initial collaboration center on enhanced application performance and response time through intelligent server load balancing — to be achieved through exchange between the IBM Enterprise Workload Manager and Cisco Content Switching Module via Server Application Sate Protocol (SASP).
Automating Switches and Servers
The agreement also will mean enhancement of IBM's Tivoli Provisioning Manager to support automated provisioning across the Cisco datacenter network. This includes support for Cisco Catalyst 6500 Content Switching, Firewall and SSL services modules, IGESM and the Cisco MDS 9000 SAN switch family. The companies said the effort should lower administrative costs and optimize use of resources.
The remaining integration centers on IBM's Tivoli SAN Manager, which also has been enhanced to support integrated management of virtualization services on the Cisco MDS SAN switch platform, another move to reduce cost and share computing and storage resources, as well as support emerging service-oriented architectures (SOA).
First Small Step
They may not have been rivals on the order of Sun and Microsoft, but the Cisco-IBM announcement echoed one of the themes from the prior pair's recent agreement, which was forced largely by customer demand for interoperability.
"Customers really see there is convergence between the computing side of the house and the network side of the house," Kerravala said. "They realize they have to work better together."
He added that he believes the initial fruit of Cisco-IBM integration was "a very small phase one" that will make announcements yet to come from the companies more significant.