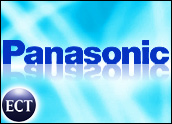 Comcast and Panasonic are upping their strike capabilities in the consumer entertainment tech wars with the introduction of the AnyPlay portable digital video recorder. With a standard-definition, 60-gigabyte hard drive and DVD/CD player, AnyPlay gives consumers more flexibility in how they watch TV shows and movies.
The portable device records and stores high-def content from a Comcast set-top box. Specifically, the AnyPlay P-DVR Model TZ-LC100 incorporates digital video recording functionality into a Panasonic portable DVD player platform.
When placed onto a companion docking station, the AnyPlay P-DVR lets viewers watch and record television programs like they would using a standard DVR set-top box, according to the companies.
TV to Go
What's new is that they can then unplug the device and take it with them. They can watch their stored TV programming on a laptop while on the road, or take it to a friend's house and view it on any compatible TV.
Also, since it's based on an open standard, AnyPlay can be used to access two-way services from cable operators besides Comcast.
The P-DVR will be available beginning in early 2009.
Flexibility is the main factor behind AnyPlay's development, the companies say.
Tru2way Path
Besides its introduction of AnyPlay, Comcast and Panasonic are developing other consumer electronic media products that conform to tru2way, a new industry standard that will allow other companies to develop products for cable TV systems.
The firms announced a series of new tru2way-powered products at CES, including Plasma HDTV. Selected models of Panasonic's Viera HDTV will include tru2way technology later this year. These TVs will have less wiring and component clutter, and be easier to operate with a single remote control.
With the development of an open standard, the television industry is sure to see a wave of new portable high-def DVR products that offer greater storage capabilities, Phillip Swann, president and publisher of TVPredictions.com, told TechNewsWorld.
Until now, the product closest to doing what Anyplay does is a DVR offered by Echostar that enables users to store programming on a USB drive, he said. No other vendors have offered consumers a way to port their content — at least, not easily.
"There is clearly a feeling in the industry that consumers want more ways to store programming outside of the living room," said Swann.