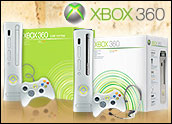 Microsoft took sides with console competitor Nintendo at the E3 gaming conference in Los Angeles this week, highlighting the significantly lower price tags on both Nintendo's Wii and the Microsoft Xbox 360 compared to gaming powerhouse Sony's Playstation 3.
The renewed fight for gamers' attention is marked by innovation in gaming graphics, networked play, wireless capabilities, controller features and more from the big three players, which are all doing their best to tout their own platforms and games while belittling the competition.
At the moment, however, none of these console players could be considered small, and with a growing audience for the latest role playing games (RPGs), sports, fantasy and adventure titles, there will likely be room for all three in the expanding gaming marketplace.
Jabs and Barbs
Nevertheless, the E3 jabs started early and kept going, with Sony pointing out that its PS3, featuring new processor and high-definition DVD technology, took more time to produce than the corner-cutting competition's consoles.
Microsoft fired back later in the week by advising that for the new listed price of a PS3, expected at about US$500 and $600 when available in November, gamers could pick up both a new Xbox 360 and a Nintendo Wii, which sell for about $300-$400 and $200-$300, respectively.
Though not making as much noise, Nintendo may be about to walk away with the most buzz from the show, by keeping its focus on an innovative new remote control-styled, motion-sensitive game controller that won praise from E3 attendees.
Price Check
Microsoft's message on console price is unlikely to hit core gamers and enthusiasts, who are more conscious of hardware improvements and performance than cost, Parks Associates Director of Broadband and Gaming Michael Cai told TechNewsWorld.
"The early adopters know the value," he said. "They can break down the components and see the difference."
Cai added that Microsoft — which demonstrated an HD DVD add-on to the Xbox 360 that corresponds to the PS3's Blu-ray DVD drive — will be offering a similarly priced package if the drive sells for $150 to $200, which is likely.
"If you buy that add-on, it's as expensive as PS3," Cai said.
Dollars for High Def
Microsoft managed to impress E3 attendees with its planned line of Xbox 360 games, something the software giant might consider over its price shots at Sony, noted Gartner Research Vice President Van Baker.
He also pointed out that Sony's PS3, in addition to a next-generation of Playstation gaming, provides a Blu-ray DVD player for what amounts to $100, a "nice value proposition," he said, considering dedicated Blu-ray players are selling for $900 or more.
Microsoft's HD DVD add-on to the Xbox 360 has been the company's response to the new PS3 feature. However, Microsoft has also attempted to stir confusion and controversy about the dueling high-def DVD formats, in Baker's view.
"More than anything, it's just Microsoft trying to muddy up the waters in the console space," he said.