Another day, another new smartphone coming to market. In this case, it is Dell's Aero, a device retailing for US$99 with a two-year contract with AT&T. Features include a 5 MP camera, a 3.5-inch display, and Flash Lite support for streaming audio and video content.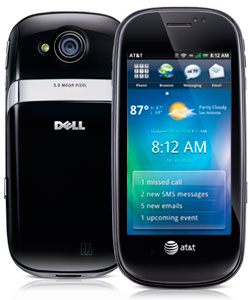 Dell Aero
It also has WiFi connectivity, giving users access to AT&T's 20,000 hotspots, as well as Bluetooth and GPS. It runs on Android. There the story would usually end — a value-priced phone with some high-end touches — save for this: It is Android 1.5, which came out in April 2009, and it is unclear when — or even if — Dell plans to upgrade.
Most new Android phones ship with 2.1, and a few are running on 2.2.
Dell didn't return a call from TechNewsWorld in time for publication.
Dell is pointing to enhancements it has made to the OS such as its own user interface; several preinstalled applications including Quickoffice, Facebook and Twitter; handwriting recognition; and shortcuts to upload photos to social sites.
Running 1.5 Is 'Shameless'
It's not just enough, said Patrick Gilbert, president and CEO of 4SmartPhone.
"I don't see the point at all in this phone," he told TechNewsWorld. "It's beyond me — it isn't even 1.6."
Arguably, the device could be upgraded, said Gilbert, because it is running a 624 MHz processor. However, that doesn't answer the fundamental question of why Dell bothered to enhance 1.5 instead of pushing for a higher version of Android.
Also, an upgrade wouldn't address the hardware quality, which is less-than-cutting edge, pointed out Azita Arvani of the Arvani Group.
A 624 Mhz processor is slow, she flatly said.
"The camera and memory capacity are not that exciting. The integration with social networking is nothing new, and suggests a consumer focus," Arvani told TechNewsWorld.
"The fact that it also has Quickoffice means it is also targeting the business users — but it is missing the mark" with that user group because of its hardware limitations. As for running on an OS three generations behind, Arvani called that "shameless."
Dell is not even discussing the upgrade path for the phone, which is normally something that is touted on release, observed David Bernard, managing director of DB Marketing Technologies. "Case in point: Most of the recent Android 2.1 releases included the label 'Upgradable to Android 2.2,'" he told TechNewsWorld.
Customers will balk at the mention of Android 1.5 without an upgrade path, customizations or no customizations, said Bernard.
Dell's Odd Streak
The Aero launch is reminiscent of the debut of Dell's Streak earlier this month. Doubts about the Streak are rising, mainly given its unusual form factor. It's large for a smartphone but small for a tablet.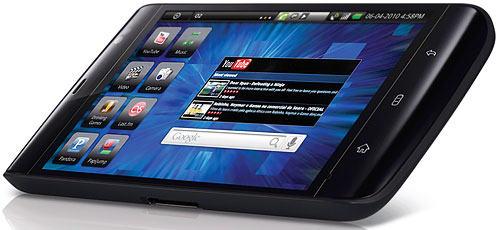 The Streak — Dell's 5-Inch Android-Based Tablet
More to the point, it is running on Android 1.6. In this case, though, Dell has promised an upgrade to Android 2.2 later this year.
The introduction of the Aero is "a similarly weird move," Gilbert said.
It also is an illustration of the dangers of a fragmented Android market. There are figures showing Android surpassing the iPhone, he noted, but the Aero is the perfect example of why those numbers can be deceptive.
"Android has several versions that are available to new devices, and it depends on the manufacturer which will be used. When a new iPhone comes to market, you know exactly what OS it will have."