Dell's latest product, the Streak, will make its U.S. debut on Friday, with consumers able to place pre-orders for the device starting Thursday.
When Dell unveiled the Streak in May, it immediately grabbed the attention of tech-watchers. It sports a 5-inch color, multitouch screen, runs on the popular Android platform and is powered by a 1 GHz Qualcomm Snapdragon processor.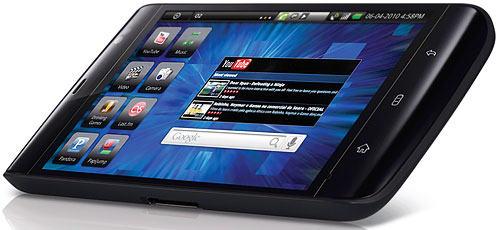 The Streak — Dell's 5-Inch Android-Based Tablet
Other features and capabilities include 3G, WiFi and Bluetooth wireless support; integrated GPS; a 5 MP camera with flash; and Micro SD memory that is expandable to 32 GB. It is also integrated with Google Maps and turn-by-turn navigation.
Now, though, some problems with the device are becoming clear, and there is increasing skepticism over how well it will do.
"In this fiercely competitive marketplace, I don't know how Streak can find a good position, except maybe become another poster child for what not to do," Azita Arvani of the Arvani Group told TechNewsWorld.
Problematic Pricing
For starters, the price is a drawback: The Streak will retail for US$299.99 with a two-year contract, or $549.00 without one.
"Three hundred dollars for a device is too steep for a lot of people, especially if you are locked into a contract," Allen Nogee, principal analyst with In-Stat, told TechNewsWorld.
For some consumers, the fact that AT&T is the Streak's carrier is also an issue, as it has developed a reputation — deserved or not — for poor network performance.
Then there is the fact that the Streak will be based on Android 1.6. This may not be as much of a drawback, since Dell has promised an upgrade to Android 2.2 later this year, Patrick Gilbert, president and CEO of 4SmartPhone, told TechNewsWorld.
Unusual Form Factor
The big issue is the Streak's form factor, Gilbert said. Too big to be a smartphone, too small to be a tablet, the device exists in the netherworld between those two devices.
"It is hard to imagine what use it is best suited for," Gilbert said. "I don't see it as a business device."
It might be popular among consumers who are drawn to its larger screen, he suggested. "However, the iPhone's screen offers a better resolution, so it is difficult to make that call."
Taken together, all these factors add up to one unsatisfactory device, Arvani said.
"Yes, you can think of times where you wish you had a bigger display on your smartphone — but then again, your smartphone has to act like a phone and fit into smaller pockets. You can think of times where you would want to sit back and surf the net, but then you'd use a bigger tablet. So, it seems like a useless hybrid between smartphone and tablet."
If the price were lower, some consumers might try it for fun, Arvani said, noting that "the fact that it runs a 1-year old operating system at this price is a crime."
The market Dell is trying to penetrate — smartphone/small tablet — is still amorphous, observed Nogee, who expressed a slightly more charitable opinion on the device.
It is still unclear whether there is even a viable market, but leaving that question aside, he said, the Streak does offer some high-end touches — and it looks good.
"For what it is," Nogee concluded, "it is an interesting product."