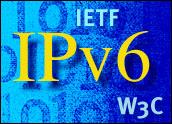 The U.S. Department of Defense will begin testing Internet Protocol version 6 (IPv6), a technology that many have called the next-generation Internet and that the DOD has said is critical to national defense. The DOD is teaming with hardware and software vendors — including Fujitsu, Cisco, IBM, Microsoft, HP, Sun and Nokia — to test IPv6, which many believe will replace today's widespread IPv4 and provide the additional capacity and security required for more Internet-connected devices.
The United States has been accused of lagging in its response to and interest in the movement backing IPv6, but Yankee Group senior analyst Zeus Kerravala told TechNewsWorld that the new protocol is only needed right now in the Asia-Pacific region, where mass numbers of mobile phones and other wireless devices have eaten up IP address space.
According to Kerravala, the United States doesn't have as much of an immediate need for IP address space, and is therefore not likely see the changeover to IPv6 for nearly a decade. "The United States won't start moving to adoption of version 6 for another eight years at least," he said. "Then, its pick-up will be slow. Version 4 will be the dominant protocol for a long time."
Out of Space
Technology users in the Asia-Pacific region, however, face a shortage of the important IP addresses that are the basis of many networks that connect computers and other devices to the Internet.
Much as the increased use of cell phones and pagers has dictated new area codes for U.S. cities, Asia-Pacific users' love of mobile devices has caused a similar shortage on the Internet.
Kerravala said that while a dearth of IP addresses is not an issue in the United States, the shortage in Asia is apparent. Some universities in the United States have more IP addresses than all of China.
Kerravala, who said the region is indeed "running out of addresses," predicted islands of IPv6 adoption will begin appearing as the transition to the new protocol begins for users in Asia.
Addresses Only
While security is often cited along with the IP address limitations as an impetus for rolling out IPv6, Kerravala disputed that contention.
"Pretty much all of [the security in IPv6] you can do with version 4 now," he said. "The IP addresses — that's all it really is now."
While the currently used IPv4 addresses are 32 bits in length, the move to IPv6 represents an exponential increase in the number of possible addresses, which are 128 bits in length with the new version.
Beyond Band-Aid
Commenting on a test similar to those being undertaken by the DOD in the next year, Fujitsu director of data network product planning Floyd Ferguson said the IPv4 address shortage has resulted in widespread use of Network Address Translation (NAT), a protocol that has been used as a short-term solution to the problem.
"IPv6, with its near-limitless supply of address space, plus other protocol advancements, mitigates address shortage issues, eliminates the need for NAT and provides a solid platform for IT advancement and deployment of new end-to-end applications," Ferguson said in a statement.
Slow Upgrade
Kerravala said IPv6 might be suited to a laboratory setting, but he added that version 6 wouldn't run very well in a real production environment today.
The analyst said that as mobile gadgets that connect to the Internet become as pervasive in the United States as they have in the Asia-Pacific region, users can expect a migration to IPv6, which is backward compatible with version 4. But he pointed out it will be a long process.
"The devices will increase, but people shouldn't expect adoption overnight," Kerravala said. "It will be a lot slower than people think."